Husband and wife open leather-mending business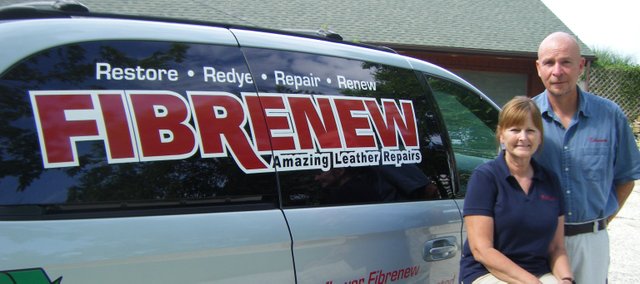 It's not often losing a job turns into something beneficial, but that's precisely what happened to Ron Seetin.
When Ron, a Tonganoxie resident, was laid off working as an engineer, he grabbed the opportunity to start his own business. After some thorough research, he and his wife, Suzette, decided to begin a Midwest branch of Fibrenew, an international leather repair company with franchises in the United States, Canada, Italy and Mexico.
"We figured we were the best people to invest with," Ron said. "A lot of people have stocks and different retirement funds, but we decided we were the best investment we could make. An investment in ourselves and our future where all the risk is just with us."
Fibrenew appealed to the Seetins because of its positive reputation and commitment to environmentally sound practices and charitable work.
"We were really impressed with what we read about Fibrenew," Suzette said. "It's a Christian company, and they help people in third-world countries and help women start their own businesses, and they care about the environment. Those things really caught our attention."
The couple spent two weeks in February training in Canada and came back to open Kansas' only Fibrenew franchise, primarily serving Johnson, Leavenworth and Wyandotte counties. They work from their home on 178th Street but mostly travel to different jobs repairing and re-dyeing all things leather, along with vinyl, plastic and fabric. The Seetins say they can transform almost any object from worn and torn boat seats to cracked car dashes and burned carpet, or a pair of faded cowboy boots in need of a facelift.
"Just the other day, we were out at a marina in Smithville repairing seats on several boats," Suzette said. "It was such a nice day out, and it was wonderful to be outside enjoying the sun and doing something we love. Then the next day, we went to a restaurant to work on their booths. So you just never know where we'll be."
"We won't turn away any business," Ron added. "A lot of furniture is worth saving, and we can make an old ripped leather couch or chairs look brand new. We're trying to get started with restoring classic cars, too. That's something I really like doing."
Suzette's background as an office manager has allowed her to run the administrative side of the business while Ron uses his engineering experience to perform a lot of handy work.
"He can fix anything," Suzette said of Ron. "I'm always amazed at what he can do. I make all the calls and handle all the books. But I like doing the fabric and leather dying, too, because that's really creative working with the colors."
While they are still working to get their name out, the Seetins have stayed busy during the last few months. They say they are delighted with their decision to join the Fibrenew family and have quite enjoyed being partners in both marriage and business.

"We've figured out how to work together and live together and still love each other," Suzette said. "It gets hard to juggle it all sometimes, but that's part of it."
"We're still figuring it all out, still learning and growing," Ron added. "But right now, we're loving it. We believe in ourselves enough to do this."
For more information, go to fibrenew.com/sunflower, or contact Ron and Suzette Seetin at (913) 724-1453 or sunflower@fibrenew.com.