County budget discussion continues Tuesday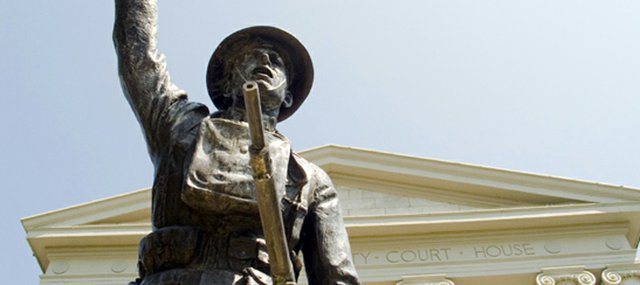 As the Leavenworth County Commission continued its budget discussions Tuesday, the struggle persisted attempting to squeeze a dollar out of a dime.
During Tuesday's public hearing, the Appraiser's Office, Sheriff's Office, jail and St. Vincent's clinic were next on the list for reporting their numbers.
Appraiser's Office
County Appraiser Bob Weber presented numbers for his department, citing a 5 percent reduction from the 2010 budget, which brought the budget request to $945,000. An employee transfer brought the budget to $899,000, and County Administrator Heather Morgan said staff's recommended amount included an additional reduction of roughly $7,000. During the presentation, Weber proposed buying a new photography system for the office that would enable appraisers to capture finely detailed images of every property in the county, thus eliminating the need to drive out to each property every year to reassess its value. The system would require budget shifting to the tune of about $19,000.
"The photos would be taken with a camera that allows you to see very detailed information like chipped paint, window rot," Weber said. "This allows you to review the properties in the office, so we're saving a lot of gas and time."
Commissioner J.C. Tellefson said he supported the idea, but only if it meant reducing the number of cars or employees in the office.
Weber also requested an additional $6,000 to increase the pay of three of his staff members because their education had increased and credentials improved.
Commissioner John Flower commended Weber for reducing his budget as directed and expressed his support of putting some of the reduced money back into positive use.
"He said look, I'm going to do the right thing…and I'm going to give you $100,000 back, and I have this program that I know will benefit my department," Flower said of Weber. "So I'm going to take $25,000 back from the $100,000 and give you $75,000, and now you're saying, 'Oh no, I want that $25,000.'"
St. Vincent's Clinic
Several representatives from the Leavenworth clinic were at the meeting to present their numbers.
In 2009, the clinic had 975 patients with the majority of those patients having chronic diseases. The total visit count was 4,500 from those 975 patients. All the patients live in the county with low income and no insurance and are asked to pay a $15 visit fee and $5 lab fee.
The clinic requested $25,000 from the county to aid in its operational expenses, as one of only four medical establishments in the county serving low-income patients who have no health insurance.
Flower said he wanted to make sure the Leavenworth County Health Department didn't have overlap with services provided at Saint Vincent's.
"I am absolutely not going through this conversation to not provide you funds," Flower said. "I am going through this conversation to assure myself that the money we are giving you is being spent for something that is not duplicated somewhere else."
Tellefson agreed with Flower and suggested it become mandatory for the health department, St. John's Hospital, Cushing Hospital and St. Vincent's to have a quarterly joint meeting.
"I support the $25,000…but I would like to see the four groups…along with billing people start meeting at least quarterly and probably monthly," Tellefson said. "I don't want to see us do anything twice and pay for it twice."
Sheriff's Office, Jail
Sheriff David Zoellner presented the commission with his budgets. The requested office budget is $4.3 million, which is a reduction of $160,000 from the 2010 budget. Zoellner complied with the directed 5 to 10 percent reduction request but also was seeking $85,000 to hire two new dispatchers.
Zoellner said the office was understaffed, especially with dispatchers, and handling significantly more calls from the cities within Leavenworth County.
"There's more radio traffic, and we're still at the same size we were 10 years ago," he said. "We're dispatching for 16 different entities, including five different law enforcement units. We're operating with two (dispatchers) in evening and two during the day when there really should probably be three (on all shifts)."
The Sheriff's Office will explore ways to find the $85,000 from its own budget, possibly transferring money from an equipment depreciation fund.
Zoellner's requested budget for the jail is $3.3 million. An amount of $160,000 will be transferred from the Sheriff's Office budget to the jail's budget. Morgan said the county was recommending $3.3 million for the jail's budget with a $20,000 reduction.