Chieftains getting in line
'

Green' group of linemen challenge each other at camp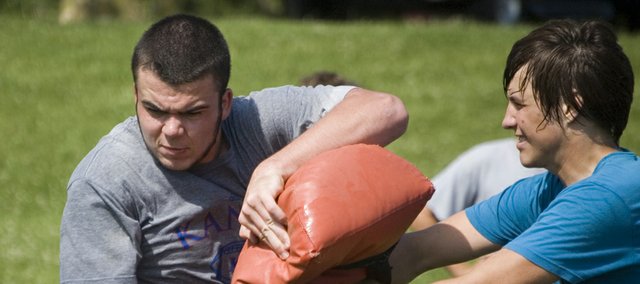 Photo Gallery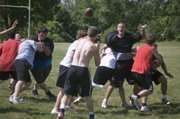 2010 Tonganoxie High football camp
The Tonganoxie High football team got an early start to its offseason this past week with four days of camp.
There is no doubt that the Tonganoxie High football team will be led by a talented group of backs this coming season, but all the backfield speed and skill in the world alone doesn't guarantee Friday night victories.
That's why the most intriguing — though not most glamorous — battles at THS football camp this past week took place in the trenches, with an unseasoned group of interior linemen.
Not one of last year's starting offensive linemen returns. On the other side of the line of scrimmage, experience is nearly as hard to find.
"The majority of those guys are green up front," said Chieftains defensive coordinator and line coach Matt Bond.
That fact made every last rep at the team's four-day camp critical to the development of the 2010 Chieftains. It was up to linemen like Bryson Hewins, Lucas Ahart, Justin Francis, Dylan Fosdick and Tyler Stockman to set the tone for both lines and build a group that is equal parts tough, smart and communicative.
Tough tasks
Hewins, who will man the line on both sides of the ball, said Bond has helped the linemen get on the right path. The rising senior, who would have received a lot of playing time in 2009 before a neck injury made that impossible, said the coach's hardline approach is building the group's strength — mentally and physically.
"He's barking at you when you're dead tired," Hewins said of Bond. "You've got to get it right, stay on track, instead of just taking it off."
One of the players who made a habit of working through the rigors of line work at camp was Fosdick. Hewins said his fellow senior-to-be made big strides at guard and was never one to ask out of a drill for a breather.
"He doesn't really think of himself," Hewins said of Fosdick. "He's gassed, but he stays in there."
Fosdick, Hewins, Ahart, Stockman, Francis, Ryan Lynch, AJ Gilbert and Conner McClellan received the most reps on the offensive line and Dallas Jacobs joins members of that group fighting for defensive line assignments but Bond has made it clear to them playing time is guaranteed to no one, even though there isn't an abundance of players trying to lock up the starting spots for the Class 4A program.
"It's not 5A, 6A, where you've got 70 kids out there," Bond said. "Sometimes they assume, 'Just because I'm a senior, I've got a spot.'"
He knocks the wind out of that theory by keeping younger players in the mix with reps and rewarding the most productive players. That way, even guys such as Hewins, Fosdick and Francis, who got varsity playing time last season on the defensive line, are challenged.
The linemen know they have to battle, even with friends. Hewins considers each lineman a buddy but realizes everyone wants to play and is willing to duke it out for that right.
"Once it starts, you're all out for yourself," Hewins said, noting he and Francis will be combating to win a starting guard spot. "Even if they're friends, you still gotta get in there regardless."
Knowledgeable parts
The linemen also are getting their gridiron IQ tested. At camp, Bond was moving guys around to different spots on the offensive line, from right to left, tackle to guard, as well as rotating in three players — Gilbert, McClellan and Hewins — at center.
"We're kind of moving them around to have interchangeable parts," Bond said.
That's fine with head coach Mark Elston, who said it might have sent a couple players into "mental overload" at camp. His hope is that a senior will understand how to play all five spots on the offensive line, a junior four and a sophomore three.
Hewins said Ahart was one senior lineman who could play each position if asked.
"He knows everything," Hewins said.
That knowledge showed when Ahart assessed the offensive line's play at camp. His familiarity kept him realistic about the group's progress.
"I think we're doing all right. We're learning," Ahart said. "We're still messing up quite a bit but we've played together for a while so we know what to do."
As players are challenged and swapped in and out of different slots, Elston said there is logic behind the process.
"Right now we're searching for the right combination," he said. "We're kind of picking and choosing right now to see what clicks the best."
Talking it out
If this year's linemen want to succeed, they can use the approach of last season's unit as a road map. The Chieftains weren't massive or dominating up front last fall, but guys such as Dylan Young, Dane Gonser and Ben Myers got along together and — more importantly — always communicated.
"We weren't the most talented group up front," Bond said.
The coach said the new crop of linemen need to follow the talkative example of last season's line and make sure each player knows exactly what everyone else is doing before the ball is snapped.
Ahart said he saw a bit of that at camp.
"We're working together, we're talking so we know where to go," the offensive lineman said. "We're opening up holes."
That wasn't lost on the team's quarterback, Jeremy Carlisle, who said offensive linemen were pointing out assignments.
"We've got to have our O-line step up if we're going to be a good ball team this year," Carlisle said. "I think they can do it."
Up to the task?
The linemen's coach, Bond, said after camp the players are coming together all right, and with more reps he expects them to get better.
But there are a couple things he wants to avoid with the group. First, he doesn't want the players getting too comfortable. Second, he doesn't want to talk about the potential of the unit.
"Potential is a scary word," Bond said. "The biggest thing you work on with kids is: Are we going to get to that level where a lot of kids kind of get satisfied?"
He wants to avoid that, and if he does, the players could develop nicely.
"There are some good things that can happen, but we've got to make sure we push them beyond our comfort zone a little bit," Bond said.
If the linemen refuse to settle, they just might reach their potential — and help Tonganoxie win a few games.
"We've got a long ways to go," Bond said, "but we're making progress."