Lott says he won't be retained as head soccer coach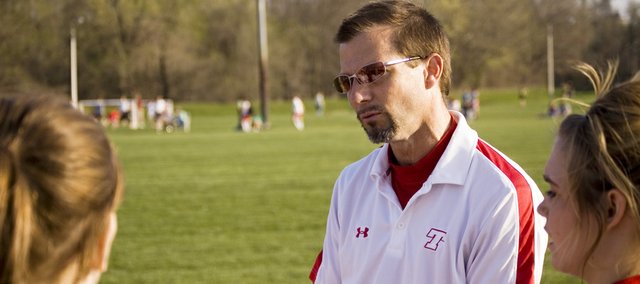 According to Ken Lott, he will not be retained next school year as head coach of either the boys or girls soccer teams at Tonganoxie High.
Lott had coached both teams since the inception of the girls program four years ago and coached the co-ed THS team before that, but in the past few weeks, he said, administrators let him know his days as head coach had concluded.
Tonganoxie athletics director Brandon Parker said he couldn't comment on Lott's apparent dismissal before the next school board meeting, which will be 6 p.m. Monday.
In late May, Lott said, THS administrative staff approached him about turning over the boys program in an attempt to take some pressure off him as head coach of two varsity programs. Lott said he told them he didn't think coaching both teams was too much.
"I think they had already planned on taking me out of that position but they wanted to make sure that I was willing to do that," Lott said. "I told them I would be if the person that they were hiring was someone that I knew and could work with."
Lott said he agreed with the change but presumed he would be back as the girls coach. However, he said he was told on June 1 that he would no longer be serving as that program's head coach either — news that caught him off guard.
"I was very surprised," he said. "I wasn't sure what they were basing it all on."
The coach said a reason for the change wasn't given to him, which he understood as a "typical response" for a personnel move, due to legal reasons.
Lott said he was open to possibly staying on the girls staff as an assistant coach, like he will do with the boys team.
"At this time, I'm interested, but I'm not sure what's going to happen," he said.
Lott said he didn't know if that scenario would play out favorably.
"If they're trying to make a change, I can't really see where a new head coach is going to want me to be there just for the fact that he's trying to establish his leadership," Lott said.
The whole ordeal has disappointed Lott.
"Obviously, I'm unhappy, especially with the girls side," he said. "The boys side, I feel like I'm still involved and I'm willing to let somebody take the reigns of that because I had planned on being the head coach for the girls."
2010 was the fourth season for the THS girls program. Lott helped put together a presentation for the school board about the need for a girls program before that move was made.
"There's been 35-plus girls for each of the four years that we've been there," he said of the girls program.
After coaching a co-ed team, Lott said he determined the girls needed a shot at showcasing their skills for college coaches.
"I felt that the girls weren't really being looked at because they weren't getting near as much playing time on the varsity level as the boys were," he said.