McLouth
BBQ

Blowout teams enjoy 'tasty' hobby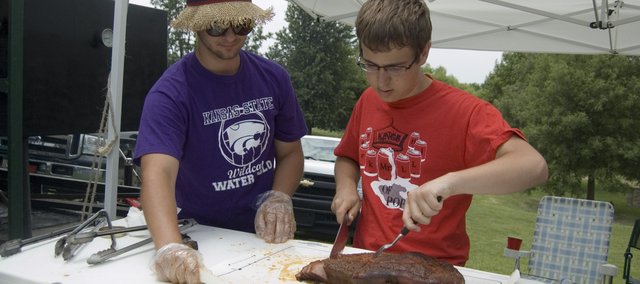 Ben Shinogle asked for a Weber Bullet smoker for a gift at the age of 10. Now 15, the Platte County, Mo., resident is entering area barbecue contests.
Saturday, he was in Jefferson County for the McLouth BBQ Blowout.
He said the most successful meat he prepares is ribs, while brisket is "fun to eat," he said. His barbecue team name is Ben and Jerry's, as his barbecue partner is Jerry Lowe.
He said he doesn't plan to make a career out of the cooking and will stick to it being a hobby. As his older brother, Charlie, said, "It's a tasty one."
The team was one of 48 squads at the barbecue contest Saturday at Prairie Park in McLouth.
Teams prepared meats such as ribs, pork and brisket for local judges.
According to his mother, Ben always has liked to cook and his barbecue creations already have won him a grand champion ribbon. He earned the recognition at a contest in Parkville, Mo.
On Saturday, Ben and Jerry's placed fifth in the sausage category and ninth in both sauce and pork ribs.
Next to the Shinogle camp was Hemphill Smokers of Tonganoxie. Curtis Oroke and Mark Himpel were busy Saturday preparing various meats for the Hemphill Smokers team, but Curtis noted they have plenty of help from friends at the contests.
Himpel said the best part of the contests is "meeting new friends," such as the Shinogle family.
Hemphill Smokers' top finishes were in chicken (first), sausage (third) and sauce (fourth).
Jerrad Humerickhouse and Mike Glassel of McLouth were two of several judges at Saturday's blowout, also known as the Northeast Kansas State BBQ Championship, a Kansas City Barbeque Society sanctioned event.
Humerickhouse said he's been a judge the past five years, noting "it's probably the best job you can get."
He said judges are told if they eat about an ounce of each entry, they consume about 1 1/2 pounds of meat.
Glassel, who judged for the first time Saturday, said he wasn't sticking to the 1-oz. vicinity.
"I eat a lot more than that," Glassel said with a laugh. "I'm going for four (pounds of food) in the gut."
Grand champion at the event was Smokin' R's, while KC Can Crew earned reserve champion status and T's Smokin' Pit placed third overall.
Another competitor, Joey Denney of the Jumpin' Joe's BBQ team from Leavenworth, said he's been competing at the McLouth BBQ Blowout since 2000 and said the key to barbecue is "a lot of tinkering and practicing." He also was singing the praises of the McLouth event.
"McLouth does a great job, I will tell you that," he said.
His team placed eighth overall in the competition.
Carrol Clark, with CNC Barbecue, traveled about 150 miles from Piqua, Kan., for McLouth's contest. Clark said he does about 40 contests a year and has traveled as far as Little Rock, Ark., which is about a six-hour drive from Piqua (in southeast Kansas).
In addition to barbecue, a bounce house, petting zoo, pony and camel rides, motorcycle show and a baked pie contest were other attractions at the event.
The McLouth Crackerjacks 4-H Club put on the pie contest.
Taking first in the adult category was Betty Ottensmeyer, while Heidi Horner placed second and Sue Nissen finished third.
In the youth category, Emily Hoffhines placed first, Madison Vaught second and Danae Williams third. Ottensmeyer made an apple pie, while Hoffhines baked a pineapple coconut pie.