Tonganoxie veterans lead the way at 4-day football camp
Photo Gallery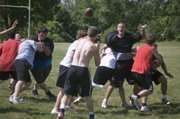 2010 Tonganoxie High football camp
The Tonganoxie High football team got an early start to its offseason this past week with four days of camp.
Friday heat might have kept the Tonganoxie High football team from breaking summer camp on a perfect note, but the Chieftains got plenty accomplished in four mornings of work this past week.
Rising THS sophomores, juniors and seniors hit the practice field to pick up schemes and get reacquainted with one another. They didn't look bad in a few areas either, Tonganoxie football coach Mark Elston said, until heat and fatigue caught up with them at the very end.
"Today we probably weren't as crisp as what we've been the last couple of days," Elston said Friday. "Hopefully we can get that corrected before next week."
The coach wants to see things looking smoother this coming Friday, when the Chieftains head to Leavenworth for a team contact camp at the University of St. Mary. When they arrive, Elston thinks they should be as prepared as any team can be three months before the start of the season.
"We introduced a lot and kids retained quite a bit," Elston said. "We didn't execute quite as well as I wanted but we were able to get maybe just a couple more things in."
On Thursday — before players looked hot and worn out on the last day of camp — Elston said he thought the offense was ahead of schedule. That surely happened due to the presence of a number of returning upperclassmen at skill positions. Jeremy Carlisle, Shawn Marin, Dylan Scates, Ian McClellan and Jeff Sims helped along the likes of Adam Thomas, Adrian Whittington, Austin Vickers, Jonas Myers and Amos White.
Carlisle, the team's returning starting quarterback and a senior-to-be, said it was good to see young players fill some roles.
"It's been a great week," Carlisle said. "We had a lot of younger guys step up and we had a few of them that showed they really want to fight for a spot on the varsity team."
Carlisle said he also was excited to see the new senior class step into a leadership role. Because it is a tight-knit group, he added, guys can get after each other for a mistake or blown assignment without worrying about somebody taking it personally.
"If there's something going on, we know we can kind of chew each other out and have the other person not take offense to it," he said, "because we know if we're soft with each other it probably won't get through as much as if we just lay it down there on the line."
Getting defensive
That was especially evident on the defensive side of the ball, in the secondary. That is Tonganoxie's most experienced unit entering the 2010 season with Carlisle, Sims, Scates and Marin manning the backfield with Tucker Hollingsworth.
Elston said the defense was "way ahead" with understanding assignments compared to last season, which should give THS coaches a good idea of who their personnel will be this fall. But, the head coach added, there is still a long way to go from an execution standpoint.
One of the groups that will determine the effectiveness of the defense is the linebackers. The inside backers worked as a separate unit during camp drills, with just six participating Friday. Rising junior Myers, who worked with McClellan, AJ Gilbert, Jacob Cannon and others at that position, said the group accomplished much.
"It works well because with less people you get more reps, you get more practice," Myers said.
And when the whole linebacking corps came together, the inside players worked well with the rest of the unit, comprised of Lucas Ahart, Brady Waldeier and Derek Lingo, among others.
"The guys at outside linebacker and safety pretty much know what's going on before we even tell them," Myers said. "We're all on one page."
The defense's knowledge and compatibility, Myers noted, should go a long way toward the team's success in the fall.
"We know what's going on even before the season so we can take the first week (of practice) and not just learn everything again," Myers said.
Let's make contact
What THS players have learned so far will be tested — and hit in the mouth — against other teams this weekend at the USM contact camp.
When Tonganoxie attended it last summer, it came at the end of the team's camp week. This year it will be a week after THS camp, so Elston hopes the players' legs will be plenty fresh in Leavenworth, where the coach is looking forward to seeing his team in full gear.
"It's a whole other ball game once the pads come on," Elston said. "We'll find out who can play and who might not be ready to."