Post office relocates to highway after being anchored downtown for decades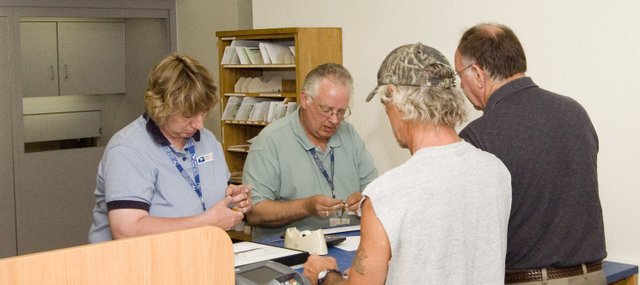 Since 1962, mail has gone in and out of the Tonganoxie Post Office at 526 E. Fourth St. in downtown Tonganoxie.
On Monday, the daily routine of residents stopping to get mail, drop off mail or buy stamps changed.
The post office officially opened Monday morning at its new location at the southeast corner of Laming and Woodfield Drive.
Postmaster Ron Hubbard said he started to receive word Thursday of the move and the impending opening of the new building Monday.
He said he would have liked the opening to be a couple weeks down the road. But coordinating various entities, such as the phone and maintenance companies and the post office's IT team at the same time, worked for this past weekend.
Hubbard said he had hoped to give customers, including The Mirror, advanced notification, but the time frame didn't accommodate that plan.
Some customers voiced disapproval of not being notified of the move, but Hubbard said the majority of customers were excited about the new site, especially the ample parking and the drive-through lane to drop off mail. Hubbard said a drive-up drop-off collection box has been available at B&J Country Mart, but people usually still utilized the downtown post office, where a drive-up collection box was not available. The postmaster aid he expected the collection box at B&J to remain where it is. He also has been in discussion with City Administrator Mike Yanez about putting a blue collection box somewhere in the downtown district so that people still could drop off mail in that area.
Collection box units, which have several mailboxes in one unit, are expected to be placed downtown and possibly other locations, Hubbard said. Until those are installed, customers with free post office boxes because of their close proximity to the downtown post office will remain free until the collection units take their places. Customers with P.O. Boxes can trade in their old keys for boxes at the new site.
One customer who stopped at the downtown location unaware that operations had moved to the new site was Desiree Leeper of Tonganoxie.
She said there were positives and negatives of both the downtown and highway sites. She noted that she loved the downtown area, but also was happy the new location has more parking and a drive-up collection box — especially with running errands with three children. She said parking always was an issue at the downtown site.
"There's always that split between what you're used to and progress," Leeper said. "I prefer to look at the positives."
Though the post office lobby will continue to be open from 8:30 a.m.-4:30 p.m. on weekdays, the lobby now will close from 12:30-1:30 p.m. Hubbard said office hours were re-evaluated and the decision was made to close for an hour midday. However, officials didn't want it closed during a regular noon hour to give customers the opportunity to stop by during a portion of their lunch breaks if needed.
Funding first was approved in 2004 for a new post office in Tonganoxie. The process was delayed when the Postal Service enforced a moratorium on all new building. Site selection didn't come without controversy, as there was a push by some, including the city council at the time, to build the new post office within close proximity to downtown.
Now, six years later, the new post office is open for business.
On Tuesday, Hubbard said settling into the new venue has been "hectic and kind of crazy, but we're getting there."
The post office phone number remains the same: (913) 845-2230.