Donating Dolls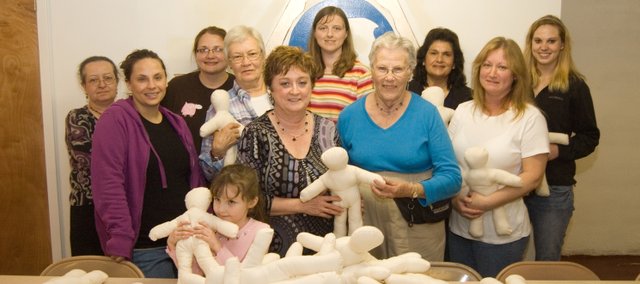 Youths preparing for surgery at Kansas University Hospital soon will have a companion in the operating room.
Spouses of members of the Henri Masonic Lodge No. 190 in Tonganoxie assembled 32 dolls made of muslin and stuffed with a poly-fiber fill that will be given to young patients at KU Hospital.
The medical dolls are not decorated, so doctors can use the dolls to explain the surgery. Or, the patients could draw on the dolls also.
"Very plain and simple," said Virginia Siecgrist, one of the spouses who assembled the dolls. "Looks like a gingerbread doll."
Siecgrist had the idea for making the dolls after seeing similar dolls at a Central States Shrine Association Legion of Honor meeting in Colorado Springs, Colo., with her husband, Charles. Those dolls were going to Shrine hospitals, Siecgrist said.
Mary Landis' husband also is a member of the Legion of Honor. Landis, a registered nurse who has worked at KU Hospital for 30 years, is the nurse liaison for the operating room. She got to chatting with Siecgrist about the possibility of making dolls for children who have surgery at KU Hospital and the project grew from there.
Landis said the hospital has received the dolls on occasion in the past, but they've always been hand-me-downs.
"We don't have anything in the operating room," said Landis. "This would be such a treat for the operating room."
Siecgrist also noted that Kansas Masonic Lodges have donated substantially to KU for cancer research, which is another tie between KU and the Masons.
In constructing the dolls, the group met once a month and spent three months putting the dolls together.
"We did a lot in three meetings," Landis said.
Jo Kinzie, who also is in the group, chimed in.
"But we had a lot of good help," Kinzie said.
Landis delivered the first batch of dolls to the hospital and the group plans to continue to make dolls for the hospital.
Landis said KU Hospital averages about 20 children's surgeries a month, so the group will continue to make dolls to help meet that number.