THS

girls looking longer
Kraft wants to press, run more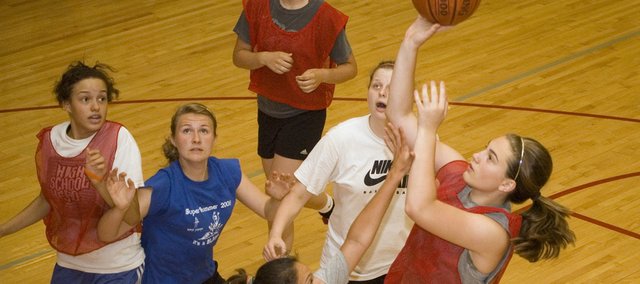 Photo Gallery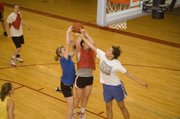 2010 THS girls basketball camp
Tonganoxie High's girls basketball team competed at four days of camp this week.
There was a new look about the Tonganoxie High girls basketball team at the squad's camp this past week but that might help the program get back to its old ways.
The most noticeable difference with the Chieftains was their collective size. They had more height in the frontcourt and the backcourt, which meant wingspans were covering more space all over the floor.
It was a refreshing sight for THS coach Randy Kraft.
"We're a lot longer than we've been," the coach said.
Tonganoxie has relied heavily on guard play the past two seasons. Kraft went as far as to call the team's post play a weakness during that stretch.
"Last year was the first year in — I can't remember how long — that we were out-rebounded as a team," Kraft said.
He's hoping the Chieftains can get back on track in that area and others with more height and depth. Jenny Whitledge spent a lot of time inside this past season but the team's leading scorer and rebounder in 2009-10 could see major minutes at guard in the upcoming campaign. She played some point guard at camp with would-be starter Hannah Kemp sidelined for two of the four days by a right-knee injury. Those two, plus Haley Smith, give THS some size and athleticism on the perimeter.
There's more of that available down low, where Danielle Miller, Tavia Brown, Tayler Miles and a pair of freshman — Katelyn Waldeier and Emma Stilgenbauer — give the team a lot of options inside.
Miller was impressed by the freshman duo and expects them to contribute immediately, like Whitledge and Kemp did this past season.
"We have two upcoming freshmen who are very tall and very athletic," Miller said of Waldeier and Stilgenbauer. "They're really good."
Whitledge agreed, and said she felt as though she could look up to Waldeier — who is a year younger than her — as someone with a physical presence in the post.
"I was really impressed with the freshmen stepping up and working really hard," Whitledge said.
Kraft thinks he will "have to incorporate" the younger post players.
"We don't want Danielle to have to play 30 minutes out of 32. We want to be able to keep fresher bodies in there," the coach said.
That's because Kraft wants to get back to the old style of Tonganoxie girls basketball — the brand the team played prior to the past two seasons, when it had to lean on a few experienced guards.
"We plan to get back to more of the things we used to do — a lot more full-court pressure, probably gonna play a lot more kids," Kraft said.
Rising sophomores Madee Walker and Jo Kissinger could be in the mix with the others for varsity minutes, giving Kraft a stable of 10 players to put out on the floor, where he expects them to run.
"We want to press and we want to get back to running the floor more," Kraft said. "That's been our emphasis at this camp and throughout the summer, we're going to emphasize that."
To help with their summer development, the Chieftains play in a Wednesday night summer league at Bonner Springs. They also will go to a team camp at Northwest Missouri State and play in the Jayhawk Jamboree in Lawrence at the end of June.
Kraft's goal is to see the younger kids develop this summer as the new-look team tries to mesh together and he hopes they can put "a pretty good team" on the floor by the time the season starts in December.
"I think things are looking good for the future," Kraft said. "I'm pretty excited about it."