Tonganoxie youths part of Christian choir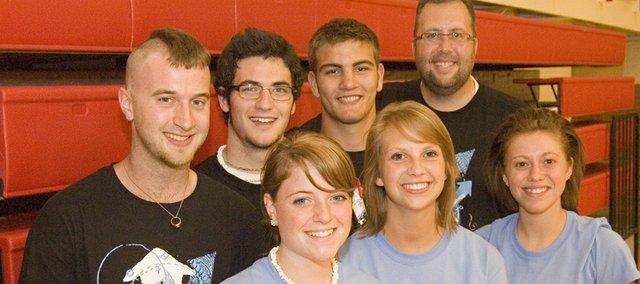 About 100 crooners were hanging out Thursday night at Tonganoxie High School, some congregating in the Chieftain Room and others playing basketball and volleyball at the THS gymnasium.
It was a time of fun and games for the singers, but the group is continuing a hectic schedule that will take them as far east as Kentucky, as far north as Iowa and back to Kansas.
The group is known as the New Ways Singers, a Gospel choir that Nebraska Christian College in Papillion, Neb., has sponsored for several years. The singers are in the middle of 2 1/2 weeks total of day-long rehearsal sessions and concerts at various venues.
Director Ron Leach, who is chair of the worship department at NCC, has been the director the past four years.
He said he has 101 youths in the choir who range in grade levels from just finishing freshman year in high school to preparing for freshman year in college.
There are students from West Virginia, Wisconsin, Minnesota, Nebraska, Colorado, South Dakota, Missouri, Iowa and Kansas.
"We're pretty much a pasty white choir, but we do good black gospel," Leach said.
Some of the choir members hail from Tonganoxie: Lexi Faherty, Preston Putthoff, Jonas Myers, Carlea Richert, Sagan Scates and Jacob Reynolds all are Tonganoxie youths who are part of New Ways Singers.
Myers said he auditioned for the group after hearing about it from a handful of fellow Tonganoxie High School students who had been involved in it previously. Myers and Richert are new to the group, as the other Tonganoxie representatives were in the choir in 2009. One THS graduate, Drew Scates, who is one of Leach's students at NCC, performed in the group in 2008. Drew and Sagan's father, Rev. Dirk Scates, who is minister at Tonganoxie Christian Church, is a member of NCC Board of Trustees.
"It's demanding, but also really rewarding," Myers said about the choir.
The routine of performing and practicing is rigorous, but the chorus group also is about worship.
Leach said the music was secondary, noting that the choir focuses on devotional time, Bible study and journaling as well.
After five days of rehearsals at NCC, the choir hit the road. They performed in Oregon, Mo., Thursday for a church camp before arriving in Tonganoxie and then headed off Friday to perform in Warrensburg, Mo.
Though the group has a good time in its travels, Leach also is a disciplinarian. If anyone is even a minute late to get on the bus, that person has to travel with luggage in the singer's lap for the duration of the trip.
The group will be performing in Tennessee, Kentucky and Iowa before returning for a 7 p.m. show Saturday in Tonganoxie. The free concert will be at the Tonganoxie Performing Arts Center on the THS campus.
Some of the songs the group will be performing: "Times," "Who is Like the Lord," "In Your Eyes" and "Give Me Jesus."