Lansing resident, beautician celebrates 90 years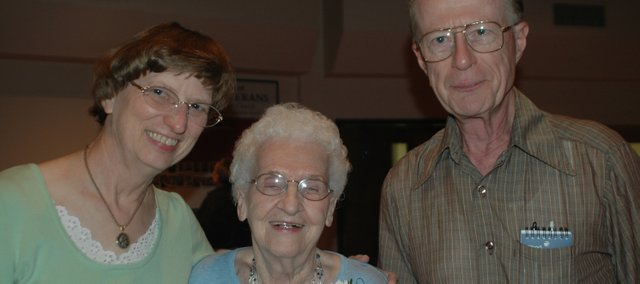 In a time when e-mails have replaced phone calls and text messages have replaced house visits, Caroline Camp keeps it old fashioned.

The Lansing beautician celebrated her 90th birthday Saturday, and she has held onto the same routine she started during her first working year as a hairdresser in 1941.
Camp, who still owns and operates her beauty shop of more than 30 years on Holiday Drive, is as proper as the era of her 20s, with a wry streak alluded to in a sign hanging inside her shop that reads, "I'm a beautician, not a magician." She is known for delivering baked goods to her neighbors, making Christmas quilts for her customers and helping people overcome tough times.
"Those are things that have kind of fallen by the wayside through time, but not with my mom," Camp's daughter Terri Siebold said. "She's always been so wonderful to her friends."
Camp's effect on people was apparent in the 90 guests from around the country who attended her birthday party at St. Francis de Sales Church, including her six children, 11 grandchildren and 14 great-grandchildren. During the party, several people shared stories about Camp, and she was presented with a plaque signed by Gov. Mark Parkinson commending her for 60 years of service in cosmetology.
"It was very personal and outstanding," Camp said of her party. "I was so happy to see everyone there, and people said it was the best party they'd been to."
Throughout her decades in the business, Camp has developed a loyal clientele, with each patron saying she won't go anywhere else.
"Once when I fell and had to be in the hospital, my customers didn't have their hair done while I was there. They waited until I got back," Camp said. "To be 90 and have all those ladies say they want only me (to do their hair), that's nice. It kind of makes you feel important."
Each week, Camp still sees an average of nine customers. The appointments not only leave the ladies with attractive 'dos, but they also have an opportunity for a long chat with a dear friend.
"Some of my ladies will get here even an hour early just to talk," Camp said. "I enjoy it. They like to tell me what's going on, and I like to hear about it. They all really have become my closest friends."
And just like a close friend, Camp's lips are sealed when it comes to beauty shop secrets.
"I just listen. I don't travel with stories," she said. "If someone comes in and says, 'Oh, what was she saying?' I just tell her, 'I don't remember.' You just can't travel with stories."
From working in her shop to maintaining her house and staying active in church, Camp hasn't slowed down much in her golden years. Her age is only apparent in her snowy hair and the pain in her back, which she says predicts the weather. But with her 90 years, Camp says she has taken in a lot of life's knowledge.
"You have to learn to listen to people," she said. "And if you think you have a wise word, you should just keep your mouth shut."