Leavenworth County Courthouse's museum feel owes much to Kelly's efforts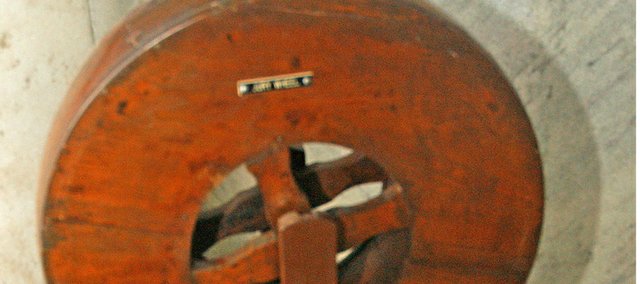 The chair that once was behind the bench at Leavenworth County District Court is but one of the items that gives the Leavenworth County Courthouse the look and feel of a museum.
Sharing a display niche on the Courthouse's second floor with the chair is a jury wheel. Names of county voters or numbers representing names were placed in the wheel before it was given a vigorous spin so that names could be selected for jury pools.
Leavenworth County Counselor David Van Parys said such wheels were still used in some federal district courts to select jury candidates.
"It's as good a random method of selecting names as a computer," he said.
Keyta Kelly said before it was returned to the courthouse, the jury wheel was stored away unseen in the basement of Carroll Mansion, the home of the Leavenworth County Historical Society.
Kelly, who was then the county counselor at large, was given the job of organizing the historical displays when the courthouse was remodeled. The job started when the district court moved in 2000 to the new Justice Center across the street and continued when remodeling started on the second floor in 2002.
The effort concluded with a "Christmas" open house in 2006, Kelly said.
The courthouse collection includes documentation of its construction after a fire destroyed the brick Victorian structure that preceded it. But taking up the most wall space are historical photographs of Leavenworth County and its towns and cities.
"We got photos from the six existing towns, but we tried to get the little towns that are no longer around — Jarbalo, although its still incorporated, Reno, Fall Leaf and Millwood," Kelly said. "I wasn't originally from Leavenworth County, although I've lived here 30 years. I didn't know the small towns existed.
"Getting those pictures usually meant meeting with an elderly person, who told me the stories that went with it at the kitchen table."
In addition to scenes from the towns and cities, the photographs show such things as railroads, long-closed stores, covered bridges, early 20th century courthouse staffers, Fort Leavenworth and schools.
The 2006 open house also served as the unveiling of three murals that grace the walls of the courthouse. Kelly said one depicting the state's pre-Civil War troubles was done by nationally known artist Ernst Ulmer, who recently passed away, and one was done in a more art deco style of different struggles for freedom, such as women's sufferage, by Michael Young.
Finally, a mural in the county commission meeting room of a crew harvesting wheat with a threshing machine was painted by young Easton artist Brad Seever, Kelly said.