Post 41 plates 23 runs in sweep
Win-streak hits 6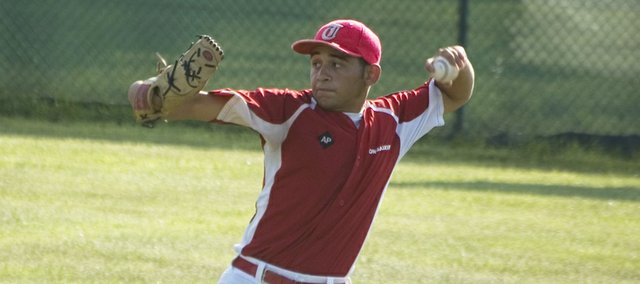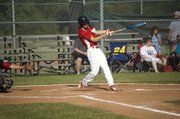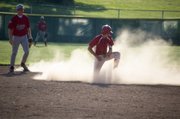 Big offensive innings were the Friday night theme for the Post 41 baseball team in a sweep of Geiger at Leavenworth County Fairgrounds. Powered by seven-, six-, five- and four-run innings, Tonganoxie won 13-3 and 10-8 to improve its winning streak to six games.
The first outpouring of runs for Post 41 (6-4) came in the bottom of the second inning in the first victory of the night. The home team plated seven runs after Jake Stauch, Austin Harkrader and Amos White all reached to load the bases.
Tyler Ogden was hit by a pitch to give Tonganoxie its first run and Dallas Keller made it 3-0 when he hit a grounder up the middle that was misplayed by Geiger a couple of times, leading to two runs.
Corey Klinkenberg and Cody Saladin drove in a run apiece with back-to-back RBI-singles and when Stauch, who led off the inning with a walk, came back up for another at bat, a grounder to third led to two more runs thanks to another Geiger error.
That seven-run inning would have been enough for a victory but Post 41 piled it on in the bottom of the sixth with six more runs to win convincingly. That made coach Pat Bailey quite happy.
"I must say I was pleased with our play, especially in Game 1," the coach said. "I thought that was probably our best performance of the season."
Despite all the runs, Post 41 only finished with eight hits. Keller and Klinkenberg had multi-hit games. Keller went 2-for-3, drove in a run and stole two bases. Klinkenberg was 2-for-2 and drove in one.
What Bailey called "another strong outing" from starting pitcher AJ Gilbert, though, was just as important. The right-hander threw a complete game and struck out 10 while walking just two and hitting a batter.
The second victory, Tongaonxie's sixth straight, wasn't as easy. Although Post 41 took a hefty, 9-0 lead early after scoring four runs in the second and five more in the third, Geiger nearly rallied back with a four-run sixth. Bailey said the team showed toughness in shutting down the visitors after they cut the lead to two.
Stauch started on the mound and got the win after three-plus innings of work. Saladin threw relief and Fosdick retired the only batter he faced for the save.
Offensively, Ogden went 2-for-3 with a double and drove in a run while Fosdick was 2-for-2 with two RBIs and scored twice.
"I can see signs that our confidence is starting to grow," Bailey said. "Hopefully we will continue and improve as a team every time out."