Bar fight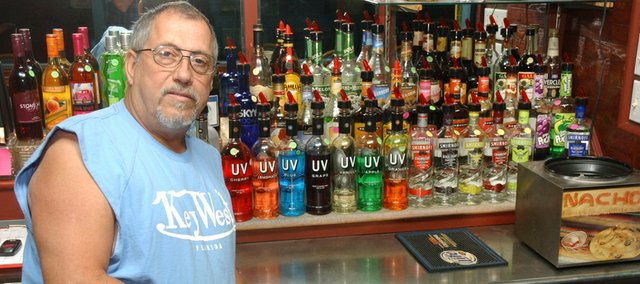 When the calendar flips over to July, enjoying a cigarette while strolling the sidewalk in the downtown business district will not be the casual thing it was in the past.
"You better be careful," Tonganoxie City Counselor Mike Kelly said. "That could get you in trouble."
The Kansas Clean Indoor Air Act that takes effect Friday restricts smoking within 10 feet of a doorway, window or ventilation system of a public building or place of employment while also banning smoking within such places.
That means someone smoking in downtown Tonganoxie had best keep close to the curb to be safely within the law.
That demonstrates how ridiculous the new law is, said Kevin Haislip, owner of the Downtown Bar and Grill at 622 E. Fourth St.
Like many other business owners in the state, Haislip is preparing for the change.
But even as Haislip builds a large patio behind the private club, where his patrons can smoke, he is fighting the ban in court.
"I'm representing a group of people who want smoking in their clubs," he said. "I won't say who they are, because I don't know."
The ban included bars and restaurants, although those private clubs licensed before Jan. 20, 2009, are excluded. The Downtown Bar and Grill got its license in May 2009.
That's the basis of Haislip's lawsuit, which was the subject of a hearing Tuesday before Shawnee County District Judge Franklin Theis. It claims the law is unconstitutional because it treats clubs differently.
"They're saying I became a club to get around this law," Haislip said. "I'm saying we have the same rights as other private clubs."
Theis said Tuesday he would release a ruling Wednesday.
Haislip's lawsuit only challenges the provision excluding recently licensed private clubs. Other active lawsuits seek to throw out the entire legislation.
The club owner's view is that the law goes too far.
"I go to restaurants with a smoking area, and I can't smell anything," Haislip said. "And if I'm in a smoking area with a fan above me, it's OK."
Haislip's activism has earned him a couple of TV interviews and gotten him and his bar ink in newspapers. It has also earned the admiration of some of his customers.
Club patrons Shorty Hull and Phil Thomas said they supported Haislip even though they don't smoke.
"If you don't want to be around smoking, don't go to the bar," Hull said.
Two blocks west of Haislip's club, Debbi and Charlie "Tuna" Conrad said their West End Cafe was ready for the the new smoking prohibitions. The outdoor patio is marked with a 10-foot radius from the door.
Tuna estimated 20 percent of the cafe's customers were smokers, but he didn't think the change would cost the restaurant any business.
"It's across the board," he said. "It's not like it's Tonganoxie against Basehor. Everyone has to deal with the same thing."
Still, the couple doesn't like the new measure Gov. Mark Parkinson signed into law in May while praising it as a win for Kansans who got the clean air they deserved.
'We're losing more rights everyday," Debbi said. "As business owner