Looking for a point
THS

boys struggle without lead guard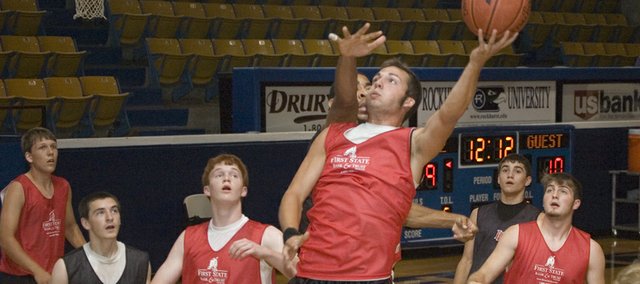 Every week in June, the Tonganoxie High boys basketball team traveled to Kansas City, Mo., to play in a summer league at Rockhurst University.
It was supposed to be a nice offseason test for the Chieftains — see some different competition, hopefully play at a high level. But the summer challenge got cranked up a few notches when the team's starting point guard, Jeremy Carlisle, was sidelined with a strained achilles.
Carlisle missed the final six games at Rockhurst as well as the team's six games at a Creighton University team camp in Omaha, Neb. Although Colby Yates was able to fill in at times in Carlisle's absence, his summer golf schedule kept him from complete availability and THS went 5-5 at Rockhurst and 2-4 at Creighton, giving the team a losing record (7-9) in the month of June.
Tonganoxie coach Shawn Phillips said playing without a true lead guard was difficult.
"Jeremy is a very good point guard for a high school player," Phillips said. "It's been a challenge for some of our younger kids to step up and play."
This past week at Rockhurst, Ben Williams and Conner Kietzmann got minutes at the point with Carlisle watching from the sideline and Yates out of town. Against Lansing, the Chieftains struggled against on-the-ball pressure and lost by 30 points.
"Trying to figure out who our next ball-handler is going to be is something we have to figure out this summer," Phillips said.
Dylan Scates, along with teammates Dane Erickson, Austin Vickers, Dylan Jacobs and Brady Waldeier, saw how difficult the game of basketball could be without an experienced point guard.
"It felt like a whole other team when he's not out there," Scates said of Carlisle's absence.
But the rising senior said facing that challenge could help out THS in the long run.
"It lets us know what we play like without our leader, our point guard," he said.
Namely, the experience exposed some holes. Phillips said the younger guards were hit-and-miss.
"Sometimes they handled that well," he said of their increased playing time. "Sometimes overexposure showed some weaknesses in their game that they need to develop."
But the coach said because the Chieftains learned what areas need improvement, that knowledge could be beneficial down the road.
"In the here and now, it's kind of a negative because we've struggled a little bit," Phillips said. "In the long term, it could be a positive thing because we've identified a lot of those weaknesses and it gives a lot of guys some valuable experience."
Scates said everybody had to pass more in the absence of Carlisle and Yates, which also could help the team.
"It puts the ball in our hands more and lets us have more experience with our younger players who haven't had that many varsity minutes," he said.
Phillips said he wasn't worried about the young guys because they will get better with more experience.
"With a little more time they'll be all right," the coach said. "The good thing is that it's summer and we have a lot of time to figure that out."