Volleyball camp visitors help Chieftains reach 'higher level'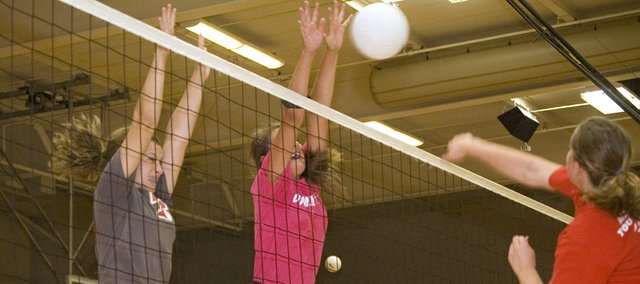 During the four three-hour sessions that comprised Tonganoxie High volleyball camp this past week, none was more eye-opening than Day 3, when the Chieftains witnessed another level of play — high and hard, above the net.
The THS campers, 30 in all, spent the afternoon of June 23 with former Kansas University standouts Emily Brown and Savannah Noyes, who play professionally in Europe.
The Chieftains were going through some game-situation drills when Noyes destroyed a kill and things temporarily derailed. Sagan Scates and Hannah Kemp, who barely caught a glimpse of the spike as it rocketed to the floor in between them, were awestruck. That's when Tonganoxie co-coach Tiffany Parker led all the players in a "Wayne's World"-esque "we're not worthy" bow toward Noyes.
Although there wasn't much the Tonganoxie preps could do at a time like that, their coaches were glad to have them competing against such high caliber players. Co-coach Brandon Parker said he wanted the Chieftains to get accustomed to a superb level of volleyball so nothing would faze them and they could just go out and play.
"With that experience, I don't care who we're playing, we're not going to see anyone better than those two," he said of Noyes and Brown.
Rising THS senior Molly O'Hagan said the players had much to learn from the former Jayhawks and noted Noyes helped them with their middle transitions. O'Hagan said she and her teammates all wanted to make a play against the "college girls," who were there to help out at camp.
"Competition is great and when there's a higher level of play, that makes everyone step up," O'Hagan said. "I think that kind of brought up the level of play and the want for the ball."
Danielle Miller, Tonganoxie's other senior-to-be, said Brown and Noyes showed the players how to do some different things that kept them in attack mode.
"They gave us a lot of pointers," Miller said.
That should help out a team that Brandon Parker said was one of the most athletic groups he and wife Tiffany have coached at THS. Between O'Hagan, Miller, Kemp, Scates, Jenny Whitledge, Brooklyn Kerbaugh, Megan Hummelgaard, Haley Smith and Kailan Kuzmic, Parker said the team has players who can perform at multiple spots and not just be locked in to one position.
The team's versatility shined earlier this summer, at St. James Academy, where THS plays on Tuesday nights. Kemp, the team's setter, went out with an injury and O'Hagan, Whitledge and Kuzmic had to be shifted around to make the lineup effective.
Said O'Hagan: "We dealt with the adversity phenomenally. Our whole team stepped up to a different level and played great."
She added that was a good sign of how the players are building a bond this summer and learning to play with each other. O'Hagan said it is great to see that happen now instead of in August, when practice starts.
"We know that we have potential as a team," she said, adding the Chieftains want to have the best season possible.