Season ends at Hoyt for
THS

girls
Stellar performances from senior guards not enough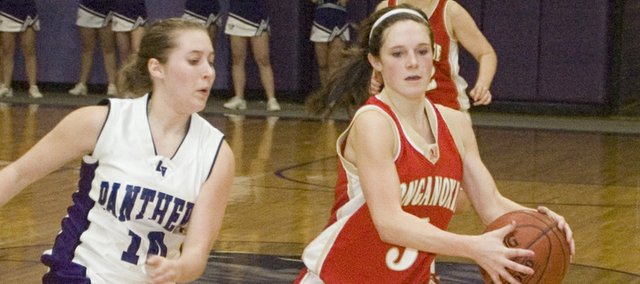 Photo Gallery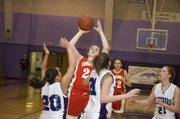 THS girls' season ends in 1st round
Tonganoxie High's girls basketball team was bounced from its sub-state tournament Monday night with a 62-50 loss at Royal Valley in Hoyt.
Hoyt — For flashes Monday night, Tonganoxie High's girls basketball team looked like a postseason winner.
The way determined senior guards Andie Jeannin and Lauren Hall were dropping three-pointers, it seemed like the Chieftains were going to turn things around at the optimum time — their Class 4A sub-state opener at Royal Valley.
But those bursts of hope weren't enough to ignite a victory in a 62-50, season-ending loss to the Panthers.
Tonganoxie couldn't find inside scoring chances against Royal Valley's zone and that deficiency provided a solid Panthers frontcourt with enough breathing room to win the first-round playoff game, despite four three-pointers apiece from Hall and Jeannin.
Jeannin, who finished with team-highs of 16 points and six assists in her prep finale, said she and Hall, who scored 12, entered the postseason determined.
"I think we just knew it had a chance to be our last game, so we didn't want it to end with us just playing lackadaisical," Jeannin said. "We wanted to make sure we were giving it our best and I knew I was hitting threes, so I was gonna stop and shoot a three if that's what it took."
Both players bounced back well from a disappointing Senior Night three days earlier, when Hall scored five and Jeannin had just two points.
Their coach, Randy Kraft, said he wanted the two guards leading the charge because Tonganoxie was attempting to speed up the more methodical Panthers (11-10).
"They don't like to play that fast of pace game and we like to go faster and the only way you're gonna speed it up is to just really push the ball down the floor," Kraft said. "If Andie was feelin' it, Lauren was feelin' it, then they were takin' shots early in the offense."
Much like many Tonganoxie games this season, the game turned in favor of its opponent in the second half.
The Chieftains had a cut an eight-point halftime deficit down to three after a nice up-and-under move by junior Danielle Miller and a three from Jeannin with 5:40 to go in the third but that would be as close as Tonganoxie (6-15) could get.
Jeannin said THS got too comfortable once the game was within reach.
"I guess since we thought we were just (three) away that it was just magically going to stay that way or we were going to keep cutting it closer without having to work — and that wasn't the case," she said.
After taking just two free throws in the first half, Kraft's team heard plenty at intermission about being more aggressive and taking the ball to the hoop. The Chieftains started the third quarter by doing just that but got away from it down the stretch.
"We kind of had them where we wanted them and then we let them go," the coach said.
THS made just five of 12 free-throw attempts in the second half.
One of Tonganoxie's usual producers, freshman forward Jenny Whitledge, was in foul trouble throughout the game but she finished with nine points and four rebounds.
In her absence, the Chieftains got a huge boost from sophomore Tavia Brown, who grabbed eight rebounds and blocked three shots. Brown was playing so hard, she ended up getting sick on the team's bench.
The loss was Tonganoxie's fifth in a row and its ninth setback in 10 outings.
Jeannin said she could barely handle the weight of the moment.
"It's heartbreaking," she said, fighting back tears.
It marked just the second time a Kraft-coached THS team lost in the first round of sub-state. The last time that occurred was Kraft's first year at Tonganoxie, 2003.
Score by quarters
THS 14 11 11 14 — 50
RVHS 14 19 13 16 — 62
Tonganoxie scoring
Andie Jeannin 5-12 2-4 16, Lauren Hall 4-13 0-0 12, Danielle Miller 2-6 2-6 6, Jenny Whitledge 4-9 1-4 9, Hannah Kemp 1-5 0-0 2, Haley Smith 1-3 0-0 3, Lindsey Fatherley 0-0 0-0 0, Tavia Brown 1-2 0-0 2.