Senior Night setback disappoints
THS

girls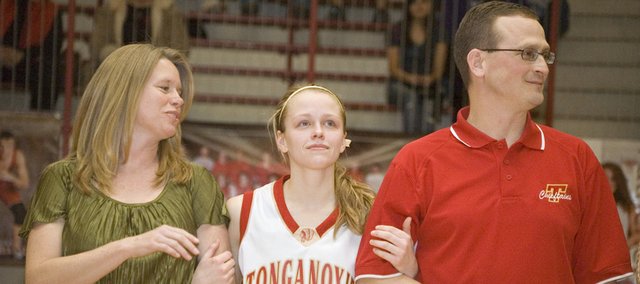 Photo Gallery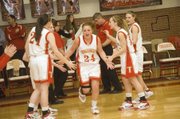 THS girls Senior Night
The Tonganoxie High girls basketball team lost to Piper on Senior Night, 52-41, Friday.
It was difficult for the seniors on Tonganoxie High's girls basketball team to feign happiness Friday night.
Ideally, Lindsey Fatherley, Lauren Hall and Andie Jeannin would have been all smiles as they lined up for a Senior Night ceremony moments after their game with Piper, but the outcome — a 52-41 Pirates win — put a bit of a damper on the festivities.
There were moments of happiness, and they were genuine, but for the most part the Chieftains couldn't stop dwelling on the loss.
"It's hard to take in," Hall said after playing in her final home game.
That sentiment was shared by Jeannin.
"It just stinks that it was my last game ever here," she said of the loss. "I just didn't want it to end like that because we were so close the whole game."
THS (6-14 overall, 4-9 Kaw Valley League) was tied with Piper at intermission but the Pirates began to pull away in the third quarter, when Tonganoxie converted just three field goals and a free throw.
Though the Chieftains chipped an eight-point disadvantage entering the fourth quarter down to four with 2:23 to go, a flurry of good looks from behind the arc in the next minute from Jeannin and Hall wouldn't fall.
Hall said losing on Senior Night was discouraging but she was even more disappointed in the accumulation of losses down the stretch for her team.
"To an extent it does make it more difficult, but I was more so emotionally hit with the fact that we have been losing multiple games in a row," Hall said, alluding to Tonganoxie's four-game slide to end the regular season.
Thankfully, the team is so upbeat in general that all thoughts weren't downers following the 11-point setback. Chieftains coach Randy Kraft said his senior guards, Hall and Jeannin, have been instrumental.
"They've got great attitudes and they work hard every day," Kraft said. "They work on things that some kids aren't willing to do — get out and play defense, they really guard people."
He also applauded Fatherley, who got a rare start on Senior Night, after serving as a sub on the team coming off a knee injury last season.
"She came to us as a freshman with almost zero skills and whatever we showed her to do, she worked hard at," Kraft said.
Hall said all her teammates got along famously, despite the team's struggles.
"They're the best group I've ever been around and I love all of them very much," she said.
Jeannin, too, said she wouldn't forget the camaraderie of the group.
"This has been my favorite team I've ever played on out of any sport," she said. "We all mesh so well."
As for Kraft, the eighth-year THS coach said the team's attitude and work ethic made it memorable.
"There's a lot of things that I'm happy with. Even though we've only got six wins, they've made it an enjoyable year," the coach said. "I've had some teams that have won a lot more games that by the end of the season, I was ready for it to be over, and frankly with this group, they've been fun. They've been great to work with."
Score by quarters
PHS 6 17 15 14 — 52
THS 8 15 7 11 — 41
Tonganoxie scoring
Andie Jeannin 0-8 2-2 2, Lauren Hall 2-8 0-0 5, Danielle Miller 1-4 1-2 3, Jenny Whitledge 7-13 8-9 22, Lindsey Fatherley 1-2 0-0 2, Hannah Kemp 2-4 0-0 5, Tavia Brown 1-2 0-0 2.