Chieftains cruise to sub-state semis
THS

routs Atchison in postseason opener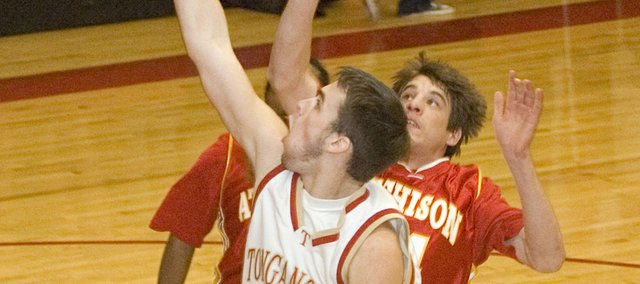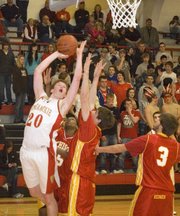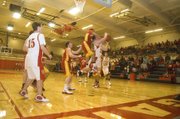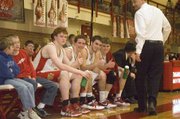 There wasn't much drama to be found in the sub-state opener for Tonganoxie High's boys basketball team.
That was fine with the Chieftains, whose Tuesday performance against Atchison could be described with another D-word: dominating.
THS pasted its first-round opponent, 74-48, to move on to a Class 4A sub-state semifinal, and coach Shawn Phillips said it was the exact kind of show he was looking for in the opening act of the postseason stage.
"When you're the favorite, you'd like to have very little drama in your first game," Phillips said.
The front line of fourth-seeded Tonganoxie made sure fifth-seeded AHS wouldn't be getting out of the first round.
The trio of Dane Erickson, Justin Jacobs and Keaton Schaffer accounted for 90 percent of the team's first-half scoring as the Chieftains (13-8) built a 40-25 halftime lead.
Erickson's eyes popped when he found out he, Schaffer and Jacobs had combined for 36 of the team's 40 first-half points.
"It felt pretty dominating, but not that much," said the sophomore center, who scored 16 of his 18 in the first two quarters, when Jacobs and Schaffer each added 10.
Phillips has said all season that he likes the way his team finishes inside and whether it was Schaffer off the dribble, Erickson posting up or Jacobs with an offensive rebound and a putback, the coach was enjoying the layup line that broke out during Tuesday's game.
"We shoot a very high percentage in the paint and that was something we stressed before the game — we want to dominate from two feet," the second-year THS coach said.
Scoring in transition also is important for Tonganoxie and when junior point guard Jeremy Carlisle got into a little foul trouble early on, Schaffer took on a distributing role in the first half and finished the game with a near triple-double: 24 points, nine rebounds and seven assists.
He said the team's starting posts made his job easy.
"Dane and Justin were just overpowering in the post tonight. There was just nothing they (Atchison) could do," Schaffer said.
The Chieftains' leading scorer resumed his usual role in the third quarter with Carlisle pushing the tempo in the open floor. Schaffer scored the team's first eight points of the second half and finished the quarter with 14.
His fast-break layup and free throw 2:01 into the third put THS up 20 and that lead ballooned to 31 when Dylan Scates capped a 15-4 run with a three pointer with 2:18 to go.
Scates contributed productive minutes off the bench, scoring nine points and grabbing 11 rebounds.
Only Jacobs, who went for 12 points and 12 boards, was better on the glass.
With a running fourth-quarter clock and the game all but decided, Schaffer, Erickson, Jacobs and Carlisle finished the game on the bench.
Phillips said if Schaffer had played four quarters, he probably would have registered a triple-double.
But the senior isn't holding any grudges.
"Hopefully I'll get it in the sub-state finals," Schaffer said.
THS plays in a Class 4A sub-state semifinal at Hoyt on Friday against the winner of a Tuesday game between the tournament's No. 1 seed, Pleasant Ridge, and No. 8 Perry-Lecompton.
Score by quarters
AHS 11 14 11 12 — 48
THS 20 20 30 4 — 74
Tonganoxie scoring
Dane Erickson 8-11 2-2 18, Keaton Schaffer 7-14 9-14 24, Jeremy Carlisle 2-3 2-2 7, Austin Vickers 1-4 0-0 3, Justin Jacobs 5-9 2-3 12, Dylan Scates 4-8 1-1 9, Colby Yates 0-1 0-0 0, Brady Waldeier 0-0 1-2 1.