Medal marks end of Maus' time as prep
Hand has eye-opening state experience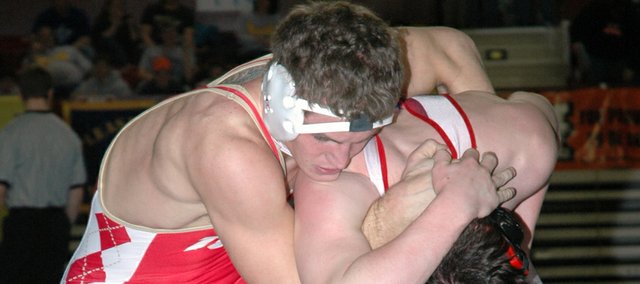 It was far from a dream-sequence ending, but the emotions of the moment following the culmination of his prep career still overwhelmed Tonganoxie High senior wrestler Jeremie Maus.
The 171-pounder just had his hand raised in victory after his opponent in the Class 4A state wrestling tournament's fifth-place match was unable to compete due to injury.
Obviously, it wasn't the default victory that got to Maus on Saturday night at Salina. It was knowing his time as a THS grappler was over.
"It was a good way to go out I think because I got my hand raised and everything," Maus said after going 4-2 in his first — and only — trip to state and placing fifth in his weight class. "Immediately after that, tears started flowing... It was kind of sad."
As the Chieftains' lone state medal-winner looked up into the Bicentennial Center stands, he pointed to his family members — from both Tonganoxie and Abilene — clad in T-shirts that read, "Team Jerbo," referring to the family's nickname for him, and thought about how far he had come in the sport.
Maus recalled his first time out on the mat in detail, all the way down to his blue and yellow shoes.
"I just remembered getting my freakin' butt kicked," he said, thinking back on his fourth-grade start.
It took a while for him to find his way in wrestling, and placing at the state tournament helped him remember how much he progressed.
"It made my dreams come true," Maus said of winning a state medal. "It just shows how much hard work it takes."
Although Maus, who finished his senior year with a 40-7 record, was one win away from qualifying for state in previous years, he finally made it as a senior. His coach, Jeremy Goebel, said earning a medal in his first state tournament was quite an accomplishment.
"His hard work is evident in what he showcased down there at Salina," Goebel said.
The coach said his star pupil was very relaxed, despite his surroundings, and that led to his success.
"I think him just getting there (to state) got everything off his shoulders and he just went out there and wrestled like he could and finished strong," Goebel said.
Hand learns from experience
Maus' teammate, 130-pound THS junior Tyler Hand, also was competing at his first state tournament this past weekend.
The only other Tonganoxie wrestler to qualify this season, Hand went 0-2 at Salina, and said it was an eye-opening experience. Hand was eliminated after losing in the consolation round Friday, but he stuck around to watch the rest of the action and learned something by watching the state-championship bouts.
"I just realized that these kids wanted to place at state," Hand said. "They expected to go and take first."
Still "in shock" that he had qualified for state a few days earlier, Hand said he lacked that same mental edge in his state wrestling debut.
"I was happy with qualifying," he said. "I wasn't hungry enough."
The result, Hand added, wasn't pretty.
"I totally got my butt kicked," he said. "Those kids were just so much better than me… I just wasn't ready for it."
The good news for the junior, who went 11-17 this season, is that he could get another stab at state with plenty of preparation in the offseason.
Goebel said Hand should only benefit from his state losses.
"His eyes kind of got opened to what the state tournament's all about and hopefully that will motivate him to be able to get down there next year and bring some hardware home, like Jeremie did," the coach said.
Hand said he already feels a drive for next season.
"I'm ready to get back on the mat and I realize now I can make it — I know I can qualify — but I just have to get more mat time and prepare myself for next year, for sure," he said.
Class 4A State Wrestling
Team standings: 1. Clay Center, 129; 2. Valley Center 114; 3. Andale, 105; tie-31. Tonganoxie, 15.
THS state results
171 — Jeremie Maus, 4-2, fifth place
Blaine Tholstrup, Concordia, W 8-2
Taylor Baird, Pratt, L 10-2
Heath Parmley, Baldwin, W fall 3:50
Camron Leupold, Hiawatha, W fall 2:19
Chance Davis, Clay Center, L 5-3
Jared McComb, Chanute, W injury default
130 — Tyler Hand, 0-2
Tyson Schmidtberger, Russell, L fall 1:45
Josh Thoele, Prairie View, L fall 2:00