Students hope to get '
MADE

'
MTV

searches for high-schoolers with big aspirations of self improvement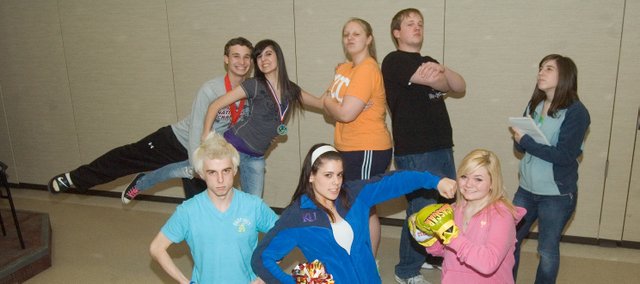 The halls of Tonganoxie High School were filled with weight-lifters, figure skaters, hip-hop dancers and boxers Thursday.
At least, that's what the students of THS hope to be "made" into at some point.
MTV officials visited the school Thursday to audition students for their hit show "Made," which helps students attain their goals.
A number of Tonganoxie students auditioned, each answering questions about personal goals, such as, "How long do you think it will take to complete your goal?" and "Why do you want to be 'Made?'"
MTV was doing auditions in the Kansas City metro area, sending requests via e-mail to school administrators.
THS principal Jamie Carlisle, though, said the auditions nearly didn't happen.
"I got the request via e-mail," Carlisle explained. "I came within an eyelash of hitting the delete button thinking it was spam.
"You know you see something that says 'MTV' on it coming through your e-mail, I almost hit delete immediately."
Four or five days passed, Carlisle said, and he asked his wife and son what they thought of "Made."
They gave the show resounding reviews and Carlisle contacted MTV officials about coming to Tonganoxie.
A couple of students who met with MTV officials, THS seniors Lana Dominguez and Bret Koch, have visions of mastering a popular Winter Olympics sport.
"I wanted to audition because I have always been envious of the (figure) skaters … and I think it would be a great experience," Dominguez said.
Eva Drennan, a sophomore, wanted to be made into a hip-hop dancer because, "if you know me, I'm not the most graceful type of person."
Not all students, however, had goals that stemmed from their inability to dance. Some had goals that just sounded fun.
THS senior Haley Field, who recently starred in the high school play, is looking to crack the art of cutting-edge clothing.
"I always thought it would be awesome to be a fashion designer and I love watching shows like 'Project Runway,'" Field said.
Other goals were self-improvement oriented.
THS senior Isaac Jones wanted to be made into a bodybuilder because "it's the exact opposite of what others see in me … it reflects what I'm striving toward: becoming a person of inner strength, determination, confidence and responsibility."
Although MTV officials were not available for questions, Jones' statement seems to reflect the show. It aims not to change people, but to help them realize their full potential.
Sophomore Jelika Surprise, a boxing hopeful, echoed that sentiment by saying "it would make me know that I could do anything if I set my mind to it."
Almost all of the students were optimistic about their chances to get chosen, and each thought it would be a great experience.
"If I got 'made' it would be super exciting," said Dominguez.
Only junior Elliot Brest seemed cautious.
"I'm not really that optimistic … I don't want to get my hopes up if they choose someone else to be 'made,'" he said.
He seemed to be the only one, however, who wasn't entertaining daydreams of life as a figure skater, bodybuilder or hip-hop dancer.
Dreams that could come true with millions of MTV viewers tuned into their televisions.
— Baragary, a senior this year at Tonganoxie High School, is working as an intern this school year at The Mirror.