Joint Chiefs chairman talks openly about leadership, gays in the military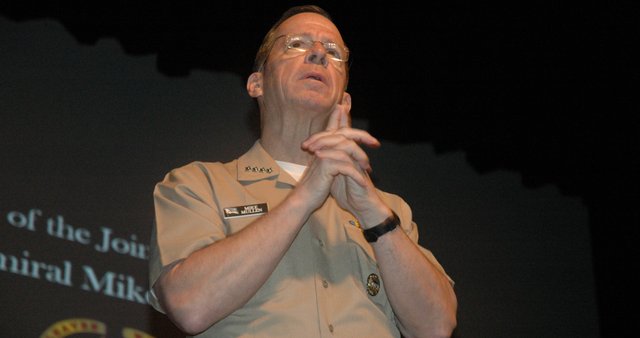 In a speech addressing an auditorium full of Command and General Staff College students Thursday, Joint Chiefs of Staff chairman Adm. Mike Mullen talked about stepping up to the plate as leaders and also making family a top priority.
"Families have always been critical to us as a military, but never as much as (post 9/11)," Mullen said to the audience gathered Thursday morning in the Eisenhower Auditorium of the Lewis and Clark Center at Fort Leavenworth. "They are integral to our success and we would not be in a position that we are right now (in Iraq and Afghanistan) without our extra family support. So I ask you to go home tonight and actually tell that to your families."
Recalling a speech he made just the day prior at Kansas State University, Mullen said there were three main principles the military needed to focus on in the 21st century: One, the military should never be the last resort in any conflict; two, military force should always be applied in a "precise and principled" way so as to avoid as many civilian casualties as possible; and, three, a balanced, but ever-changing, relationship between policy-makers and commanders in the field must be maintained; a relationship that demands strong involvement in the strategic decision-making process from both agencies.
On this last principle, a question from the audience was raised about whether Mullen was promoting a sort of infringement from lawmakers on a commander's authority. Mullen said it was more a matter of working together; of utilizing all available resources toward the goal of seeing an end to the conflicts in Iraq and Afghanistan.
"The military cannot do this alone. We can't succeed alone," Mullen said. "We are necessary but we aren't sufficient."
We are living in a time of change, Mullen said, and every military personnel should be thinking about how they will use their positions as leaders to address those changes. He asked the audience members, many of whom had formerly been deployed, to consider how their leadership skills would have to be modified if and when they return to war.
"What is most difficult is when leaders step up in the toughest of times," Mullen said. "How are you going to be a better leader when you get back out there?"
Mullen opened the floor to questions from the audience, which ranged from whether the National Atlantic Treaty Organization was still a useful tool in times of war to how the military would respond to the inevitable internal conflicts that would arise should President Barack Obama make good on his promise to end the "Don't Ask, Don't Tell" policy. Mullen said his opinion of the policy itself was that it undermined one of the main tenets of the U.S. Armed Forces: integrity.
"Fundamentally for me, in an institution that treasures and values integrity, I cannot match (the 'Don't Ask, Don't Tell') policy that we have … with an institution, for individuals or with an institution, that values integrity by essentially having individuals who fight every bit as well as anybody else, who die just like many others, who make a big difference, who want to make a big difference, and certainly have, and then be essentially excluded because of their sexual orientation … and essentially have to live a lie," Mullen said.
More of this story can be found in next week's issues of the Bonner Springs Chieftain, the Basehor Sentinel and the Tonganoxie Mirror.