Minus leading scorer,
THS

loses semifinal
Chieftains' season ends with Schaffer sidelined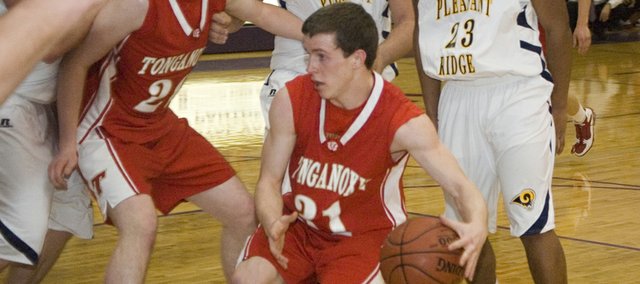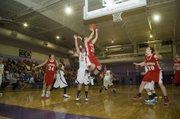 Hoyt — A routine drive to the basket altered the postseason fortunes of Tonganoxie High's boy's basketball team in a Class 4A sub-state semifinal Friday night.
THS senior forward Keaton Schaffer injured his lower back in the final minute of the first quarter against Pleasant Ridge and could not return.
Without their leading scorer, the Chieftains came up just short, 64-61.
Schaffer attacked the basket like he has a thousand times before but with 43 seconds remaining in the first quarter, he drew a hard foul and smacked down on the floor — a fall that would require him to leave Royal Valley High School at halftime of what proved to be the final game of his prep career.
Down five points to the tournament's No.1 seed, PRHS (17-2), when Schaffer was sidelined, his teammates rallied without him.
Junior guard Dylan Scates came off the bench to score 12 first-half points and give Tonganoxie (13-9) an emotional lift.
With just less than two minutes to go in the first half, junior point guard Jeremy Carlisle scored a layup in transition to tie the game at 26.
Sophomore center Dane Erickson scored a basket and drew a foul in the paint with 59 seconds left in the second quarter before hitting a free throw that put the Chieftains ahead, 29-26.
After losing a narrow, one-point halftime advantage in the third quarter, THS re-gained the lead when Carlisle took his team on an 11-0 run.
The junior dynamo hit a pull-up jumper, went coast to coast for a layup, drained a three, hit a pair of free throws and capped an inspired stretch of basketball with a drive and lay-in that gave Tonganoxie a 46-40 advantage with 1:22 to go in the third.
A 7-2 Rams run to finish the period, however, nearly nullified the run and the Chieftains led 48-47 after three.
THS finally felt Schaffer's absence in the fourth quarter, when they went without a field goal for the first 6:54.
Tonganoxie trailed by as many as seven in the final minute before putting together one last, desperate push.
Scates drove in for a hoop with 43 seconds left, junior Austin Vickers hit a three-pointer with 17 ticks to go and Carlisle scored the final basket of the night on a layup with just 3.6 seconds on the clock.
With Tonganoxie applying full-court pressure after the last basket, senior forward Justin Jacobs was able to pick off a PRHS pass but his momentum from the steal carried him inside the three-point line, where he hurried a missed jumper as time expired.
Carlisle led his team with 24 points and five assists.
Scates finished with 15 points and Erickson put up 13.
Jacobs led THS with 12 rebounds.
Score by quarters
THS 14 15 19 13 — 61
PRHS 18 10 19 17 — 64
Tonganoxie scoring
Dane Erickson 4-9 5-8 13, Keaton Schaffer 1-3 0-0 2, Jeremy Carlisle 9-17 5-8 24, Austin Vickers 2-5 0-0 5, Justin Jacobs 1-10 0-0 2, Dylan Scates 5-6 3-4 15, Colby Yates 0-1 0-0 0.