Eudora volunteers pack 164,000 meals for Haiti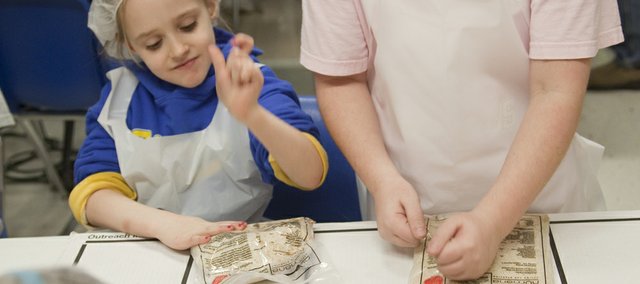 Wearing hairnets and white aprons, volunteers were part of mini-assembly lines that sprouted on top of lunch tables at Eudora Elementary School on Saturday afternoon.
As music blared, community groups, churches, families and college students poured, measured, sealed and boxed food packages. In all, 164,160 meals will be shipped to Haiti from the Kaw Valley Feeding Haiti event.
"It's the Christian thing to do," said Melissa Elmer, who was among the 1,500 volunteers. "When stuff like this happens to places like Haiti, you have to do whatever you can to give back."
The volunteers were giving plastic bags that held 10 ounces of rice, 10 ounces of soy, a tablespoon of dried vegetables and a packet of minerals and vitamins, which aimed at fighting malnutrition and boosting the immune system.
Once cooked in boiling water for five minutes, the contents of each food package are enough to feed six people.
"It is just kind of a blessing thing to do," said Jenna Beck, whose fifth-grade class raised $1,000 for the event. On Saturday, Jenna and her classmate Lauren Howard were handing out aprons and hairnets.
The event was hosted by Numana Inc., a nonprofit organization based in El Dorado whose mission is feeding the starving.
While in the makings for seven years, Numana's first major volunteer effort was at the end of December. And as fate would have it, those meals were intended for a school in Haiti.
Since the earthquake, the demand for the nonprofit's services have exploded. They have conducted packaging events in Kansas City and Chicago and plan to head to Los Angles next. More than 6 million meals have been packaged.
Isaac McNary, with Numana, said the concept has taken off because people who want to help can see the actual good they are doing.
"You can just write a check or give money and never really know where it goes," McNary said. "But when you come out and spend two hours to feed two thousand people, that is so much better."
To buy, pack and ship a meal costs 30 cents. Along with packing the meals, Saturday's event was intended to raise money to cover the costs of each meal.
In the future, Eudora organizer Becky Sasse said the group would like to conduct an event in Lawrence.