Early exit: Chieftains eliminated without Schaffer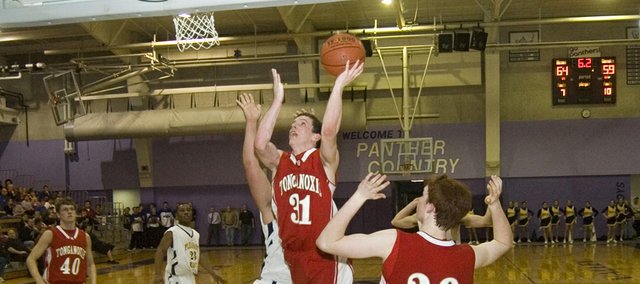 Photo Gallery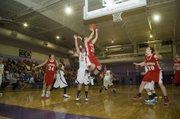 THS boys bounced in sub-state semis
Tonganoxie High's boys basketball team was knocked out of the postseason in a sub-state semifinal against Pleasant Ridge on Friday at Hoyt. The Chieftains lost, 64-61.
Hoyt — It wasn't supposed to go down like this.
Tonganoxie High's boys basketball team rolled into its Class 4A sub-state semifinal Friday night poised to knock off No. 1 seed Pleasant Ridge.
Instead, just 7:17 into their second playoff game, the course of the Chieftains' postseason was altered completely.
Leading scorer Keaton Schaffer went down in a heap with a back injury after being fouled hard on a layup attempt and was unable to return to what proved to be the team's season finale, a 64-61 loss.
Although the Chieftains rallied around the loss of Schaffer, his absence was too much for them to overcome, especially in the fourth quarter, when they didn't score a field goal until just 1:06 was left in the game.
Afterward, THS coach Shawn Phillips wasn't about to use Schaffer's injury as an excuse, even though the senior forward finished the season with averages of 18.8 points, five rebounds and 3.4 assists and was only able to contribute a basket and an assist before getting sidelined Friday.
"Injuries are a part of the game. They happen," said Phillips, who noted ailments had been on his mind this past week because some of his team's top six players had little tweaks or close calls at practices leading up to the game against PRHS.
Junior Tonganoxie point guard Jeremy Carlisle, who took on the bulk of the team's scoring and finished with 24 points on 9-for-17 shooting, said the Chieftains knew they would have to make the best of a bad situation.
"We didn't let the loss of Keaton change us," Carlisle said, adding that Schaffer was in the back of the players' minds throughout the game.
No. 4 seed Tonganoxie was down five points when Schaffer left the game with 43 seconds left in the first quarter.
Sophomore center Dane Erickson stepped in for the injured senior at the foul line, making one of two free-throw attempts before junior backup guard Dylan Scates lit a fire under his team.
The Chieftains' sixth man already had scored four points off the bench but really got his team moving in the right direction with a three-pointer that beat the first-quarter buzzer and another Scates bomb from behind the arc got THS within a point of the Rams with 6:30 to go in the second quarter.
Senior forward Justin Jacobs said Scates, who led the team with 12 first-half points, kept Tonganoxie in the game.
"He stepped up when we needed it and did what we needed him to do," Jacobs said.
Phillips agreed that Scates, who finished with 15 points, was humongous for the Chieftains.
"Dylan, he has the ability to score points and he rose up and hit some real big shots in the first half," the coach said.
THS stayed within a few points of Pleasant Ridge throughout the second quarter and took its first lead of the game in the final minute when Erickson, who missed his first three shots against hefty 6-foot-7 Rams big man Jace Warren, finally got one to drop and converted a three-point play to give his team a 29-26 advantage.
The Tonganoxie lead was cut to one at intermission and the Chieftains headed to the locker room, where they saw and spoke to Schaffer before he left the Royal Valley High facility to go to Stormont-Vail Hospital in Topeka for examination.
Carlisle promised the senior THS would win the game in his honor.
Although the lead guard, who finished with a team-best five assists, couldn't deliver on that pact, he certainly played an inspired brand of basketball in the second half.
Tonganoxie trailed by five points in the third quarter before Carlisle single-handedly went on an astounding 11-0 run that featured a pull-up jumper, a three-pointer, two layups and a pair of free throws. By the time the show was over, the Chieftains were up 59-54.
"Jeremy Carlisle is a competitor and he showed that tonight," said Phillips. "Unfortunately the way things happened, somebody had to step up."
Although Erickson scored in the paint in the final minute of the third, the THS lead was back to a point entering the fourth quarter.
PRHS opened the final period with a 12-4 run as Tonganoxie's only points before the 1:06 mark came from the foul line.
Phillips said his team was a "half-step slow" in the final eight minutes.
"We didn't do a very good job in the fourth quarter of defending," he said. "That kind of hurt us."
The Rams, meanwhile, did the opposite.
"They tightened up their defense," Carlisle said.
The Chieftains trailed by as many as seven points in the fourth but refused to go down without a fight.
Carlisle drove and scored a lay-in with 1:06 left to cut the deficit to five. Later, Scates drove in for a score with 43 seconds remaining. Austin Vickers drained a three-pointer with 0:17 on the clock and Carlisle finished a layup with only 3.6 seconds to go.
However, PRHS hit five free throws in the final minute and Tonganoxie trailed, 64-61, after Carlisle's final bucket.
In desperation mode, the Chieftains pressed with nearly no time remaining and Jacobs picked off a long Rams pass in the backcourt. But his momentum from the steal carried him inside the three-point line, where he rushed an off-balance jumper as time expired.
"If he had another step where he could have caught it and gathered, he can make that shot," Phillips said of a potential game-tying three-pointer that never happened.
Jacobs did all he could with the last-ditch opportunity.
"It's going so fast you just don't have that much time to react," said the senior forward, who led his team with 12 rebounds.
The Chieftains expected to return to Hoyt Saturday to play in the finals. When their season ended, Phillips said, it was tough on everyone.
"This is one of the most difficult last games I have ever been through just from the way it ended, the magnitude of the game, how hard our kids fought," Phillips said. "I feel bad for those guys because they played really hard."
Holton defeated Pleasant Ridge, 49-42, in Saturday's final to advance to the Class 4A state tournament in Salina.
Score by quarters
THS 14 15 19 13 — 61
PRHS 18 10 19 17 — 64
Tonganoxie scoring
Dane Erickson 4-9 5-8 13, Keaton Schaffer 1-3 0-0 2, Jeremy Carlisle 9-17 5-8 24, Austin Vickers 2-5 0-0 5, Justin Jacobs 1-10 0-0 2, Dylan Scates 5-6 3-4 15, Colby Yates 0-1 0-0 0.