Smith: Untimely injury didn't seem fair
Photo Gallery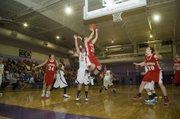 THS boys bounced in sub-state semis
Tonganoxie High's boys basketball team was knocked out of the postseason in a sub-state semifinal against Pleasant Ridge on Friday at Hoyt. The Chieftains lost, 64-61.
Hoyt — Sometimes sports just aren't fair.
Basketball was downright cruel to the boys of Tonganoxie High on Friday night.
Like some mean-spirited practical joke dished out by the hardwood gods, it was painful to watch as Chieftains senior forward Keaton Schaffer remained face-down on the floor after getting hammered on a drive to the hoop against Pleasant Ridge in a sub-state semifinal.
The foul, which occurred in the final minute of the first quarter, certainly had no malice behind it but the angle at which Schaffer was undercut knocked him off kilter and shackled him with a back injury that made it difficult for the 6-foot-4 team leader to even hobble back to the bench.
Soon, Tonganoxie's leading scorer was essentially carried to the locker room and he eventually left the gymnasium at halftime, when he was taken to Stormont-Vail Hospital in Topeka for further evaluation.
Without Schaffer, the Chieftains lost 64-61 to a Rams team they felt they could have defeated with a full arsenal.
That's what made the whole scene so difficult to stomach. Not only was a senior taken out of his final high school game because of a freak foul, but his team was in position to play for a trip to the state tournament, a destination the Tonganoxie boys haven't visited in 26 years.
The dynamic slasher who put up more than 18 points, five boards and three assists a night was rendered a non-factor at the time his team needed him most.
Although junior Jeremy Carlisle did his best Schaffer impersonation, leading the Chieftains with 24 points and five assists, the point guard felt awful for his absent teammate and his untimely misfortune.
"He didn't deserve that. Everybody knows that," Carlisle said, his eyes still red from tears in the wake of the season-ending loss. "He's been the heart and soul of this team all year. We look up to him. I look up to him."
Justin Jacobs, the team's other senior forward, took the loss harder than anybody. He struggled to put his feelings into words but said the team would have won with Schaffer in the lineup and he felt THS had a "great shot" at making it to state with its roster intact.
Jacobs wouldn't have dreamt of playing in the postseason without his running mate, not even in his worst nightmares.
"You never plan on it. You never want to think about having to play without your leading scorer," a dejected Jacobs said.
Tonganoxie coach Shawn Phillips, too, admitted the team wasn't ready to play three quarters without Schaffer. He could hardly believe it when the tough forward didn't immediately bounce up like he usually does after being fouled.
"He's done that 100 times and ended up at the free-throw line," Phillips said.
Though the whole scenario was jarring for the Chieftains, they recovered incredibly and showed their resolve. After watching their leader being helped off the court, they responded in a positive way and did all they could to advance without him.
THS led in the opening minutes of the fourth quarter and went down swinging, coming up one possession short in the three-point loss.
"We just had to play our hardest and everybody had to step up and do it for the senior," Jacobs said.
Considering his team came to Hoyt intending to win its sub-state bracket, Phillips was proud of how the players responded.
"It was kind of a shocker of a scenario and our kids still battled through it," the coach said.
Minutes after addressing a depressed locker room following the loss, Phillips even lamented not having Schaffer there for the sad aftermath.
"The worst part is I didn't get to tell him his good-bye senior speech," Phillips said. "He deserves that. He's been so valuable for this program, he's done so many great things. Having it end that way was very unfortunate for him."
How could a sport Schaffer loved so dearly be so callous?