Opinions differ over smoking ban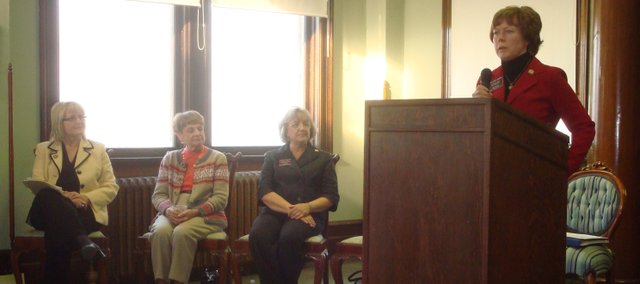 The Legislature's recent vote that would ban smoking statewide in public places had some people at Friday's legislative update in Leavenworth fired up.
State Sen. Kelly Kultala, D-Kansas City, Reps. Connie O'Brien, R-Tonganoxie, Melanie Meier, D-Leavenworth, and Marti Crow, D-Leavenworth, fielded questions at the second of three legislative updates at the Carnegie Arts Center.
The legislators fielded questions and comments from a group of roughly 30 people at the event, many of which centered around the smoking ban.
One audience member said he never smoked in his life, but said there needed to be a level playing field, that the ban needed to include casinos, racetracks and private clubs as well.
O'Brien was the only legislator in the group who opposed the ban.
"I opposed the smoking ban because of the exemptions," she said. "If you're going to have a smoking ban, it needs to be a smoking ban."
Crow said she thought there would be revisions to the ban as time goes on and that she voted for it because she heard from several constituents who wanted the ban.
Kultala pointed to the health care costs that come with smoking, noting an estimated $176 million in health care costs would be saved. Asked how much revenue in cigarette tax would be lost, she said it was much less.
Another person attending the update was a business owner who has patrons who smoke. He said he was disappointed in those who voted for the ban. He noted installing $13,000 in ventilation equipment to improve the air quality that will be a waste of money once the ban goes into effect.
Other topics were discussed during the update, including revenues for February being down $71 million.
The final Chambers of Commerce in Leavenworth County legislative update will be 4 p.m. Friday, April 16.