Restored Farmall tractor pretty in pink
Implement that raises breast cancer awareness to run in Saturday's parade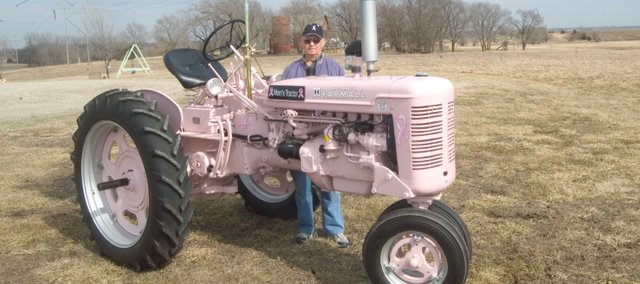 Most of Tonganoxie will be going green for Saturday's St. Patrick's Day Parade and Leprechaun Games.
Harold Denholm will be an exception. He'll go pink instead.
Harold and his son, Greg Denholm, have restored a red 1951 tractor and painted it pink in remembrance of Aileen Denholm, Harold's wife and Greg's mother, who lost a battle with breast cancer Sept. 22, 2007.
The father and son have taken the Farmall tractor to various tractor shows and are making the circuit of parades, including Saturday's parade through downtown Tonganoxie.
It was known as Mom's Tractor for many years because Aileen would mow with the tractor at least weekly on the family's rural Tonganoxie farm. Adding to the tractor are magnets that say "Mom's Tractor" as well as breast cancer awareness magnets and an umbrella with stitching that pays tribute to Aileen, known in Tonganoxie for her involvement in the local VFW Women's Auxiliary, 4-H and square dancing.
When the tractor comes down the parade route, spectators will notice it's a Farmall "Super C" tractor. Now, it's known as the "Super Cure" as the family continues to raise awareness about breast cancer.
At one tractor show, Linda Sturgeon, Harold's daughter, was encouraging women to have mammograms. One woman told her story of recently losing her job and, therefore, being unable to afford a mammogram because she had lost her health insurance. Sturgeon then handed her literature about free mammograms.
Saturday's parade will be the second for Mom's Tractor, which previously was entered in Leavenworth's Veterans Day Parade. Harold plans a return trip to Leavenworth next Wednesday for the community's St. Patrick's Day parade.
"Everybody always makes it a big deal for my birthday," Harold joked, noting his birthday also is on March 17.
It's doubtful the tractor will have any birthday banners or green decorations.
"It's hard to camouflage pink," Greg said with a laugh.