Lindsay sprinting to
WSU
THS

senior sprinter signs with Shockers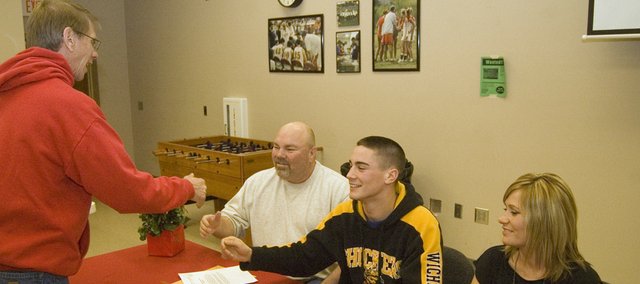 It had been months since DJ Lindsay made the decision, but it finally became official Thursday.
That's when the Tonganoxie High senior sprinter signed a letter of intent to join the track team at Wichita State University.
The anchor of the Chieftains' state championship 4x400 relay team, Lindsay decided to become a Shocker when he visited the WSU campus early this past fall, and planned on signing with the program without much fanfare.
But his parents, Dennis and Kim, told him THS wanted to help honor the milestone with a special signing ceremony in the Chieftain Room.
"I didn't think they were gonna make that big of a deal out of it, so I was really nervous," Lindsay admitted.
But he was glad it worked out that way because he got to share the moment with family, friends and teammates, plus THS principal Jamie Carlisle and boys track coach Phil Williams shared some kind words about Lindsay, which the senior appreciated.
Williams said he had never seen anyone who loved track as much as Lindsay.
One of the fastest athletes to ever lace up track shoes for Tonganoxie, Lindsay said he simply developed a passion for the sport.
"It's just something I like to do. A lot of people don't like running in circles, but I do," he said with a laugh.
When Lindsay saw that same kind of love for track at WSU, it made his college decision easy.
Although some of his buddies plan to attend Fort Hays State, which made him give that school some thought, he really liked what he saw at Wichita State.
"When they won a Missouri Valley Conference championship in the 4x4, that kind of sold me," Lindsay said.
Plus, he felt a bond with the WSU men's track program.
"Every other place I went and visited, they weren't as team-oriented as they are," Lindsay said. "Their team is like a big family and I really like that."
Lindsay also was impressed with the academic support for student-athletes, noting a center with computers where he can go and get his work done.
"They really stay on you about that, so that's good for me," he said.
Once he arrives at WSU, Lindsay wants to run in the 200-meter dash, the 400 and the 4x400 relay. His goal is to run on the relay team as a freshman and help it win another conference title.
Of course, Lindsay realizes the college level will be "way different" than high school, but he got a glimpse of what it will take this past year as a member of the Kansas City High Performance AAU track club.
In February, Lindsay traveled with the club to Bloomington, Ill., for the 2010 AAU Northern Indoor National Track and Field Championship.
He ran for KCHP in the 200, 400 and 4x400, figuring the relay team would be his best chance for success since he entered unranked in the individual events.
However, he excelled in both, finishing fifth in the 200 with a time of 23.08 seconds and sixth in the 400, 51.18 seconds.
All that earned Lindsay was a pair of medals — handed to him by two-time Olympic gold medal sprinter Maurice Greene — and a new, distinguished label: all-American.
So, yeah, you might say he's prepared for his senior track season at Tonganoxie.
"I just want to make sure I stay ready for next year, but my main goal is to try to sweep my events this year," Lindsay said.
He already has five Class 4A state medals to his name, but Lindsay has his eyes on a few more, specifically in the 200 and 400.
If all goes as planned, he'll get his shot in May at Cessna Stadium — his future home as a Wichita State Shocker.
More like this story