Tonganoxie girls finish 3rd at state powerlifting meet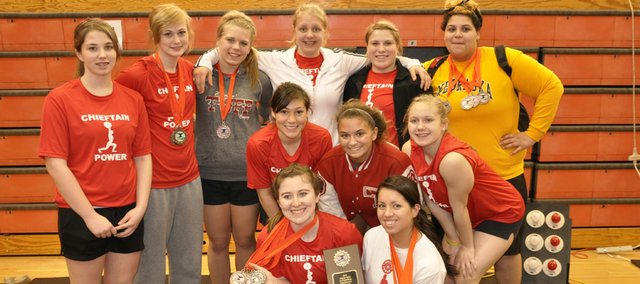 The Tonganoxie High powerlifting team wrapped up a successful 2010 season at the Class 4A state championship March 6 in Abilene.
Powered by 10 state medalists, the Chieftain girls were third out of 15 teams at the event.
Tonganoxie had two second-place winners — Rebekah Adcox and Ali George — and three third-place finishers — Domino Grizzle, Ashley Kotowske and Shelby Maxon.
The THS boys didn't fare quite as well, finishing 13th out of 24 schools, but the team had two medal winners.
Dane Gonser placed third and Eric Lucas was fourth.
Basehor-Linwood's boys and girls both won team titles at the state championship.
Class 4A powerlifting championship
March 6 at Abilene
Girls
Team standings: 1. Basehor-Linwood, 98; 2. Russell, 52; 3. Tonganoxie, 49.
THS placers
(Place: Competitor, class)
Second: Rebekah Adcox, 140; Ali George, 148.
Third: Domino Grizzle, Pwt.; Ashley Kotowske, 132; Shelby Maxon, 123.
Fourth: Kenzie Cadue, 148; Eva Drennan, Pwt.; Makayla Sample, 156.
Fifth: Katelyn Colgrove, Pwt.
Sixth: Shelby McDaniel, 148.
Ninth: Shyanne Gergick, 114.
12th: Alex Hauk, 123.
Boys
Team standings: 1. Basehor-Linwood, 66; 2. Russell, 49; 3. Buhler, 46; 13. Tonganoxie, 10.
THS placers
(Place: Competitor, class)
Third: Dane Gonser, 181
Fourth: Eric Lucas, 220
Seventh: Garret Elston, 114; Mike Sullivan, 156
Eighth: Tyler Stockman, 242
10th: Tyler Gonser, 156; Bryson Hewins, 198
12th: Justin Francis, 242
14th: Aaron Dawson, 132; Conner McClellan, 242
16th: Stephen Wilson, 198
17th: Alvin Cox, 173
18th: Austin Searcy, 148
20th: Dylan Young, 242
24th: Tyler Woolworth, 148
25th: Jesse Kaighin, 198