Tough act to follow
New Tonganoxie High javelin coach steps into some big shoes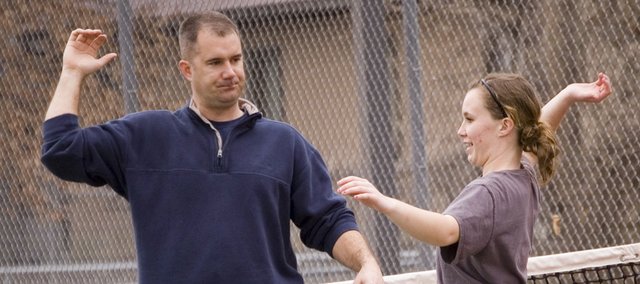 When former Tonganoxie High javelin coach Dave St. Cyr died this past December, it left more than a void in the hearts of the people who knew him.
He also left behind some pretty big shoes to fill.
Under St. Cyr's guidance, Tonganoxie javelin throwers won 13 state medals between 2001 and 2009.
Someone was going to have to step into St. Cyr's signature Nikes, and that someone is new Chieftains javelin coach Brandon Ruud.
"I guess there's a little bit of pressure being that he had some pretty good throwers," Ruud said.
However, THS boys track coach Phil Williams said Ruud can breathe easy.
"I hope he doesn't feel a lot of pressure because of the success we've had," Williams said. "After watching him the first two weeks of practice, I am excited about the job he is doing. We are lucky to have found someone with his abilities on such short notice."
Recently laid off from his plumbing position, Ruud, who lives in Bonner Springs, came across the job opening online in February and decided to give it a shot.
Although he has no previous experience as a javelin coach, Ruud is no stranger to the event or state medals. As a prep at Concordia, Ruud was a state champion his sophomore and senior years and finished second (just two inches short of the winning throw) as a junior.
His abilities landed him a spot on the Wichita State University track team, for which he competed a couple of years before shoulder surgery forced him to give up the sport.
His time in college got Ruud interested in coaching and education, so this new job seemed like a good fit — even though he had been away from the event for so long.
"Coaching is what I was kind of shooting for and then this job came open," Ruud said.
St. Cyr not forgotten
Considering this is his first time coaching the javelin and the team's upperclassmen were used to St. Cyr, the transition has been interesting for Ruud and the throwers.
Senior Richie Ridihalgh said in the fall he would often see St. Cyr around and they would talk about javelin. When he heard his coach had passed away, it was difficult for him to comprehend.
"It was kind of a shock — a big one," Ridihalgh recalled.
Madi Yates, the squad's only other senior, said for some reason she just expected to see her former coach when spring practice began.
"After I heard he died … it didn't register to me that he was not going to be here. The first day of track practice was really weird," she said.
Ruud realized it wouldn't be easy for the returning throwers.
"For the older kids, I'm sure some of it is probably difficult after having him around," the new coach said, noting he won't be making any drastic changes.
Although St. Cyr is gone, he is still impacting the team through things he taught his throwers.
Ridihalgh always was impressed with St. Cyr's approach — "When it came to javelin, he knew his stuff," he said — and he has occasionally passed along tidbits to Ruud.
"I teach him what we've done, he teaches me what he's done," Ridihalgh said.
At times, they met in the middle and figured out the best way to approach practice. Just last week, as the team was focusing on techniques, Ridihalgh suggested the throwers use the nearby tennis courts at Chieftain Park because they utilized the space for fundamental drills in the past.
Making his own mark
But that doesn't mean Ruud will always have the same approach as his predecessor. Yates said practices have been different.
"We haven't really thrown as much as we normally would have at the beginning but we do have a lot of new people," she pointed out.
Ruud said he has the throwers' best interests in mind with that — he's trying to save their arms and shoulders from overuse.
"You don't have to throw hard to work on your technique and a lot of it's with your footwork and your steps," he said.
Williams said that kind of focus reminds him of another coach.
"Coach St. Cyr was successful because he knew the techniques of his event as well as anyone I have ever been around," Williams said. "He loved kids, and they responded to his personality and his coaching. So far, Coach Ruud has impressed me very much. He definitely knows the javelin throw, and I see many similarities between the way he coaches and the way Coach St. Cyr did."
But Williams doesn't expect Ruud to turn a very young group of javelin throwers into state medalists overnight.
"Right now we don't have the experienced talent we have had the last few years, but hopefully Coach Ruud can get that going in the next year or two," Williams said. "He has jumped in like an experienced coach, and the kids are doing well."
Ruud is looking forward to the challenge and said he plans to pass on as much of his skill and experience as possible to the athletes he is coaching because he wants to get the most out of all of them.
"I just want them to be able to hit their goals in whatever that may be," Ruud said.
Given the past successes of THS javelin throwers, Ridihalgh said he would like to keep his goals high.
"I don't want to let anybody down, you know," he said. "With Coach St. Cyr, it's always been a successful program."