District recognized for energy strides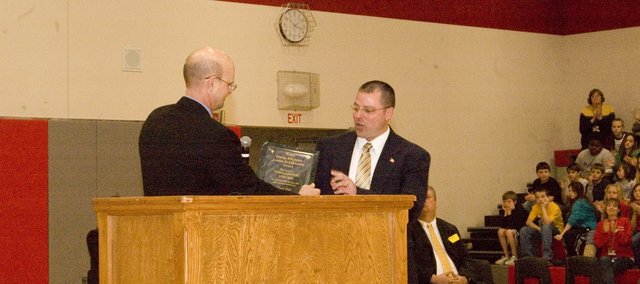 In 2009, the Tonganoxie School District was awarded the Governor's Energy Achievement Recognition Award.
On Wednesday, March 10, the district received more accolades.
Trane presented Superintendent Kyle Hayden with its Energy Efficiency Leader in Education Award for the district's sustainable energy and operational efficiency improvements.
Trane contracted with the district for $2.1 million in energy and infrastructure improvements that are expected to save the district more than $200,000 annually.
Keven Ward, education facilities consultant with Trane, said between six and 10 school districts hire Trane for energy efficiency improvements each year. A district is selected from that field each year.
The award was presented during an assembly at Tonganoxie Middle School where the TMS jazz band and girls choir also performed. TMS principal Jill Dickerson was moderator for the event and Trey Fruge, district manager for Trane, presented seeds for Earth Day planting.
The district was selected because of wide-ranging efforts. In addition to the energy savings upgrade, TMS sixth-graders conducted a preliminary energy audit during the 2008-09 school year and the class participated in Trane's BTU Crew energy efficiency curriculum. This year's seventh-graders who participated in the curriculum were recognized, as was science instructor Michael Bush. As part of the curriculum, students wrote letters to legislators. Thanks to their sending of letters to legislators, students met Gov. Mark Parkinson and their letters accompanied a state energy bill signed the same day.
"It's been gratifying to complete energy saving improvements that benefit students and teachers while providing our students with a hands-on learning experience," Hayden said. "We've sent a powerful message to our students about the importance of sustainability."
Ward said actual amounts of savings weren't yet known, and with rising energy costs, it was difficult to pinpoint, but he noted "usage was way down" since Trane upgraded the district through high-efficiency heating, ventilation and air-conditioning. High-performance lighting systems were installed, as were low-flow plumbing fixtures to conserve water and reduce sewage.
The energy project was funded through a performance contract made possible through the Kansas statutory fiscal tool KSA 75-37, 125 and the Facility Conservation Improvement Program. Performance contracts allow districts to fund energy-saving improvements with a method for schools to manage and optimize energy use, while allowing them to leverage the energy use and operational savings to support strategic educational objectives.
Financing is being done through Bank of America with a 15-year payment plan that carries a 4.98 interest rate.