Doing the monster mash
Rural Tonganoxie couple prepares for big-truck event in new Wichita arena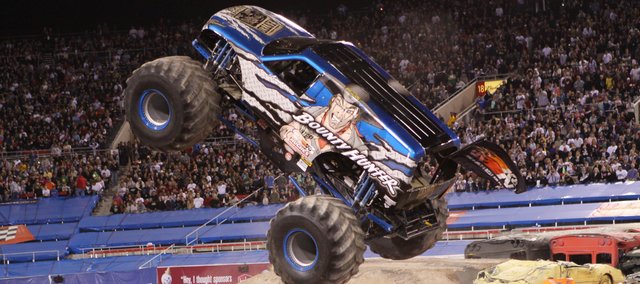 Jimmy and Dawn Creten have been all over the globe competing in monster truck events.
On Friday and Saturday, the rural Tonganoxie couple will be much closer to home.
They will race in the Advance Auto Parts Monster Jam Thunder Nationals on Friday and Saturday in Wichita's Intrust Bank Arena.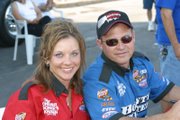 Jimmy drives the monster truck known as Bounty Hunter, while Dawn drives Scarlet Bandit.
"If people want to come out, we don't run too much around this area," Jimmy said. "It should be a great show."
On the road doing shows nearly every weekend of the year, Jimmy said he's been to a variety of venues: in Israel, Canada and Mexico, to name a few.
Though the Wichita venue is a basketball arena, he's competed in much larger venues, such as the new Cowboys Stadium in Arlington, Texas. Intrust Bank Arena seats 15,000; Texas Stadium seats 80,000.
Asked about his favorite places to compete, Jimmy noted two, one of which no longer exists.
"I really like Montreal," Jimmy said. "Something about going into the French part of Canada I like. People are really nice."
The Kingdome in Seattle, which was torn down in 2000, attracted plenty of die-hard fans, Jimmy said, noting the shows sold out early.
"People just lined up in the parking lot just to see us drive into the arena," Jimmy said. "I've never seen anything like that. Maybe it's because security is better now. But they just formed lines. Most of those people didn't have tickets."
Dawn mentioned the Edward Jones Dome in St. Louis as being a favorite of hers, though she also likes San Diego come January or February.
"In the winter, anything warm," Dawn said with a laugh.
Getting started
Mud racing was a hobby of Jimmy's before he went to college, graduating from Kansas State University in 1988 and then attending Kansas College of Technology, now KSU-Salina, for flight school. He later became interested in monster racing, again, as a hobby.
But when he was laid off from his job as an engineer, he decided to go into business for himself and turn his hobby into a career.
And in the process of working at his new career, he met his future wife. Jimmy was competing at the state fair in North Dakota — Dawn is from Bismark, N.D. — when he met her at an Alabama concert that also took place at the fair.
"I don't think she even knew what a monster truck was," Jimmy said about his wife when they met.
But she started driving and "was a natural from the beginning," Jimmy said.
"She's an awesome driver; not just because she's my wife," he said.
Dawn has driven for the past 11 years, off and on, and this year is competing most every weekend as well. This past week, the couple competed in Grand Rapids, Mich.
Dawn and Jimmy have three children, Hope, 10, Faith, 9, and Journey, 4. The children accompany their parents for some of the shows, but Dawn said her sister takes care of them when they don't make the trips.
Hope and Faith went to shows when they were younger, but haven't made trips as often once they were old enough to start school.
"They're not overly excited to be on the road anymore," Dawn said.
Competing in Wichita
At this weekend's events, the Cretens will compete in wheelie and doughnut contests — who can make the most doughnuts with their tires in a certain amount of time — as well as a drag racing-type competition and freestyle.
"You go out and ham it up basically," Jimmy said.
Like Jimmy, Dawn is eager to compete closer to home in Wichita.
"Oh yeah, definitely," she said. "We rarely really get in anything within 12 hours of here, which is nice."
For more about the Wichita event, look for upcoming shows at monsterjam.com.