Kansas University athletes encourage students to read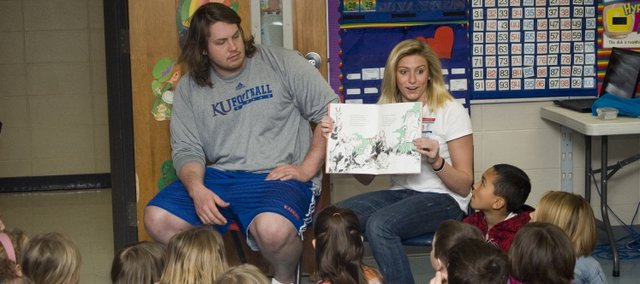 A handful of Jayhawks recently flocked to Tonganoxie Elementary School to urge students to read.
Ten student-athletes from Kansas University spent part of an afternoon reading to students as part of the National Education Association's Read Across America.
Read Across America is an annual reading motivation and awareness program that celebrates the birthday of children's author Dr. Seuss, which is March 2.
Meg Proehl, who is on the swimming and diving squad at KU, and Brad Thorson, who is an offensive lineman for the Jayhawks, said reading at schools is part of a variety of community service work KU student-athletes do for the Lawrence area.
For the 2008-09 school year, Kansas University student-athletes donated a total of 3,500 hours. Proehl said the number of student-athletes involved in activities such as reading to elementary students has increased and so have the number of hours volunteered. At the beginning of March, volunteer hours totaled about 8,700 for the 2009-10 school year.
"This is our fourth school this week," Proehl said when the group visited the school earlier this month.
Other student-athletes who read to TES students were: Cassie Sparks, Karlie Brown, Jessica Sadler, Caitlin Roach, Brittany Belford, Kate Melton and Jennifer Ohler, all of whom are on the rowing team; Alyssa Rainbolt, golf; and Kate Goff, tennis.
The student-athletes' visit also provided a chance for Tonganoxie Elementary School teacher Shelby Noonan, who graduated from KU and was a member of the swimming and diving team, to reconnect with some of her fellow Jayhawks.
For more information, go to kuathletics.com.