New look, same expectations for
THS

baseball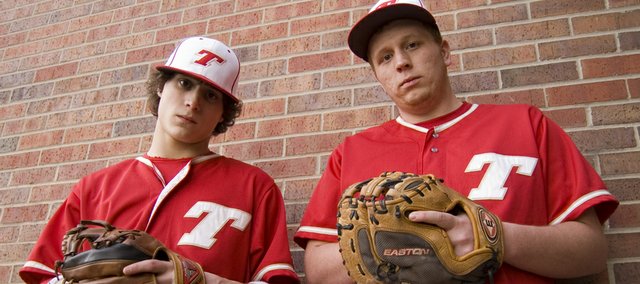 Tonganoxie High's baseball team may look different, but it has the same old goals in 2010.
After going 29-16 with two regional final appearances in the previous two seasons, the Chieftains don't want to see any drop-off this year.
"They're thinking state and that's the next step in our logical progression," said THS baseball coach Phil Loomis.
Although key contributors from 2009 are no longer in the mix, the coach has seen a significant jump in the level of play exhibited by this season's crop of juniors and seniors.
That group is led by four players who were regular starters last year: seniors Dylan Caywood and Brandon Yoder and juniors Ethan Lorance and Dylan Puhr.
Their development has Loomis looking forward to what this team might become — eventually.
"If they develop as much this season as they did last season, we're gonna be pretty good by the end of the season," he said, before clarifying. "Early, we're gonna struggle."
That's because the rest of Tonganoxie's probable starting lineup — AJ Gilbert, Dalton Harrington, Austin Hrabe, Corey Klinkenberg, Jeremy Wagner and Ben Williams — doesn't have much, if any, varsity experience.
Although the Chieftains will be without the skills and services of '09 seniors Jace Waters, Rob Schlicht and Blaize Oelschlaeger, as well as catcher Tyler Lupton, who was expected to start but graduated early, center fielder Caywood said he is upbeat about the players taking the field for THS.
"We're excited," Caywood said. "We have a lot of talent coming back — a lot of starters."
Yoder and Lorance lead the way for Tonganoxie. Both batted better than .350 last season and Lorance drove in 18 runs while Yoder had 16 RBI.
Puhr batted .293 and Caywood hit .262, scoring 14 runs with a .348 on-base percentage.
Loomis is looking to Caywood as the team's leadoff hitter and he wants to see more from the speedy center fielder, who stole five bases a season ago.
"Caywood has stepped up. If we can get him on base, that's going to be the key," the coach said. "We're not gonna hit many home runs this year, that's for sure."
On the mound, Loomis expects Lorance and Yoder, his most experienced hurlers, to match their offensive prowess.
Lorance threw 35 innings last season and struck out 36 batters while building a 1.58 ERA. Yoder worked 33 innings, struck out 29 and had a 4.03 ERA.
Caywood and Puhr likely will be in the starting rotation, too, while Wagner and Austin Harkrader will work from the bullpen.
Following the unexpected departure of Lupton, Wagner will handle duties behind the plate for THS.
With so many new roles, Loomis has been impressed with the team's level of concentration. He said the focus could help Tonganoxie match its success of the past two years.
"I don't think we have the talent but just the ability to execute might be something that we can develop," Loomis said. "When we need to make a play, need to get a bunt down or whatever, that might be a positive this year."
Senior Dylan Pendleton, who will back up Gilbert at first base, said the Chieftains have the right attitude.
"We're definitely confident, focused," he said. "Our main goal is just to win, be better than we were last year."
The way THS has been working, that just might be possible.
"Honestly," Loomis said, "I don't think we've had a bad practice yet."
Tonganoxie is scheduled to open its season at 4 p.m. Thursday at the Leavenworth County Fairgrounds with a double-header against Mill Valley.
Tonganoxie projected starting lineup
Dylan Caywood, CF
Jeremy Wagner, C
Ethan Lorance, SS
Brandon Yoder, LF
Dylan Puhr, 3B
Ben Williams, 2B
AJ Gilbert, 1B
Corey Klinkenberg, LF
Dalton Harrington, RF
Austin Hrabe, DH