Preparations for Kansas Sampler Festival going well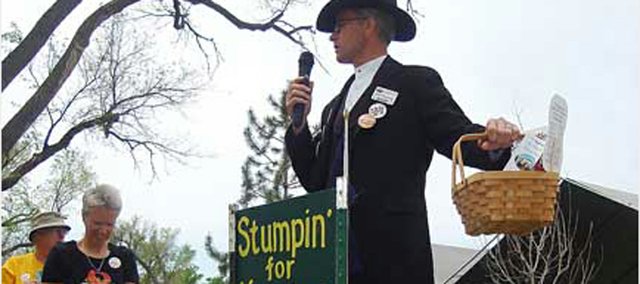 Preparations are such that the Kansas Sampler Festival could go ahead this weekend, the man in charge of the event told the Tonganoxie City Council.
Bob Topping, president of the 2010 and 2011 Kansas Sampler Festival Steering Committee, updated the council Monday on preparations for the festival May 1 and 2 at Leavenworth's Ray Miller Park. The goal of the report was to build awareness of the event, recruit more volunteers and participants and request a couple of needed items from residents, he said.
Although he said enough work had been accomplished to have the festival this weekend, he was thankful for another six weeks of preparation.
There now are 310 vendors, entertainers or exhibitors committed to participate in the festival, Topping said. When compared to past festivals, that would translate into attendance of more than 10,000, he said.
There will be a tent for all Leavenworth County participants with a booth for the City of Tonganoxie, Topping said.
The festival committee is more than halfway to its goal of recruiting 400 volunteers, Topping said as he invited local residents to join that cadre.
"Have fun and learn a lot more about Kansas along the way," he said.
The committee is also looking to borrow ATVs or golf carts to move vendors' items from their vehicles to booths and a recreational vehicle to use as its headquarters, Topping said.
Firsts for the festival this year will be a beer and wine garden, a tent filled with Kansas artists and shuttle service provided by the Kansas Draft Horse and Mule Association. The MaHaffie Stagecoach from Olathe will also give rides at the festival, Topping said.
The festival appeared on its way to success despite Kansas Speedway scheduling its spring race the same weekend, Topping said.
"The budget is sound," he said. "We're starting to receive money from entrees and foundations. The money we're bring in is exceeding expectations."