Seriously folks,
THS

golf has lofty goals
Chieftains aim for 1st team title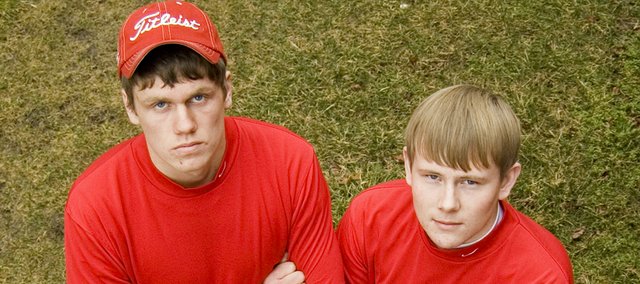 If golf truly is a gentleman's game, it's news to at least a couple Tonganoxie High Chieftains.
THS senior golfers Justin Jacobs and Preston Putthoff have been known to take things less than seriously.
Then there's Tonganoxie's other member of the 2010 class, Mitch DeHoff.
"I would be the more serious of the seniors," he said, matter-of-factly.
That much was evident not only from DeHoff's statement but also by the remarks of Jacobs. When he was asked to surmise his role, he started with a joke.
"I bring some athleticism," he began, cracking a smile, "and hopefully some encouragement and leadership to the varsity team."
Does he bring seriousness?
"Some," Jacobs said after a long pause that helped him keep a straight face.
But the joking and laid back approaches of Jacobs and Putthoff really don't bother DeHoff.
"They know when to tune it down and take things seriously," he said.
Even better, Tonganoxie golf coach Jared Jackson said the contrasting personalities actually help the team.
"Mitch does take the game serious and it does keep some of the other underclassmen focused," Jackson said. "Justin and Preston are a little less serious, but that is just their everyday attitude. It makes for a good balance on the team."
While the seniors provide plenty of entertainment, the THS golf team is led by sophomore Colby Yates. As a freshman in 2009, Yates won four tournaments, including the Kaw Valley League title.
When he blew up with such success as a freshman, DeHoff said it was a little strange for the upperclassmen. But he knows that won't be a problem this time around.
"It'll be a little less awkward this year than it was last year because I don't see him as an underclassman anymore," DeHoff said. "He definitely knows what he's doing and he doesn't need any of our help."
Jackson, the only Chieftain giving Yates advice, agreed that last year's phenom is just another teammate this season, and Yates' style should rub off on the other THS golfers.
"Colby has such an easy-going nature. He just smiles and still doesn't say much," Jackson said. "I think the other players have noticed his approach and work ethic and they are finding that hard work will pay off."
As the team prepares to begin its season, Yates and Jacobs, to whom Jackson has given exemptions for their play last year, are the only Chieftains guaranteed to appear on the team's first scorecard.
Also in the mix are DeHoff, Putthoff, sophomores Tanner Hale and Kody Campbell and transfer Eric LaBoyteaux.
With everyone trying to post low scores for playing time, Jacobs said it should help THS improve how it deals with pressure and keep things competitive.
DeHoff expects the team's rotation to be in flux.
"I see the fourth, fifth and sixth spot could change every single week," he predicted.
The golfers and their coach just want the best possible product on the course. Jackson wants to see his team win a tournament this year, a feat Tonganoxie has not accomplished in its program history.
"We had four second-places last year and we want to get a team trophy," the coach said.
Jackson also would like to see his team play up to its potential at the end of the season, when the Chieftains play a regional tournament to qualify for state.
"Last year I felt we under-performed and I want to see the kids raise their level of play at that tournament," he said.
And even though Jackson doesn't mind some joking around or lapses in seriousness, he would like to see a specific attitude from his team.
"My first goal for the season is to carry ourselves in a champion's manner," Jackson said. "That means knowing the rules and playing with great sportsmanship."
It is a gentleman's game, after all.
The Tonganoxie golf season begins at 11 a.m. Saturday with the Sunflower Classic at Bonner Springs.