Education main topic at legislative update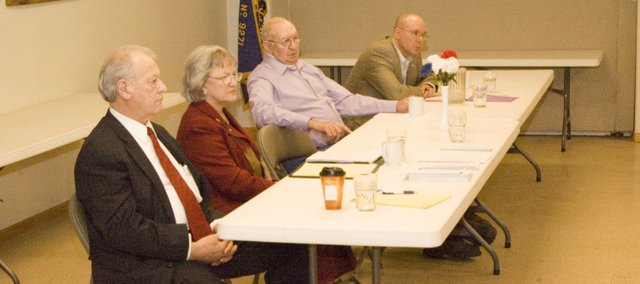 Education was at the forefront of discussions at Saturday's legislative update at the Tonganoxie VFW Post Home.
State Reps. Connie O'Brien, R-Tonganoxie, Lee Tafanelli, R-Ozawkie, and Owen Donahoe, R-Shawnee, spoke with a crowd of about 20 people Saturday.
Donna Higby, who works with Parents as Teachers in Wyandotte County, voiced concerns about budget cuts to early childhood development programs. She urged lawmakers at the legislative update to refrain from further cuts to those programs, as they are critical to detecting developmental challenges and better prepare them for a K-12 education.
Donahue said it was a matter of looking at results and that statistics showed that by third and fourth grade, students with special training versus those without training ended up at the same basic stage. He also pointed at a 75 percent graduation rate for high school.
"I think we can expend $5 o $6 million and get more than that," he said. He continued to say he thought there was "fat in the budget" that could be cut without cutting teachers.
Higby responded.
"Not to pass the buck, but you fall into another system," Higby said, noting to "pawn it off" on K-12 education wasn't necessarily fair.
Tafanelli discussed educational investments.
"If we can get children to read by second grade, the investment there is much less if we try to compensate later in elementary and later to high school," he said.
School consolidation and the future of education were discussed as well. Larry Meadows said with technology where it is, virtual schools could be a way of combating increasing consolidation in rural areas so that students aren't bused great lengths to larger schools.
Larry's wife, Lois Meadows, spoke about the Tonganoxie school district and said she thought it performed well above state figures Donahue was mentioning.
"I go to the grade school, middle school and I don't see waste," she said. "I see our kids are busy. I think we have a good system."
School board member Dan Hopkins attended the event and said Superintendent Kyle Hayden has done a good job of reducing the budget, but it's a difficult stage.
"Now we're cutting to the point of muscle," he said. "We've cut as much fat as possible."
In addition, Hopkins said the district needed a new school in the lower grades because of growth.
Also discussed at the update:
• Healthcare. In particular, a proposed tax on nursing homes at $3.28 per bed.
"It will hurt some," O'Brien said, referring to nursing homes. "Some will gain money. That really is a hard decision."
Donohoe voiced opposition to continuing to raise taxes, noting that states with higher taxes, such as California, Michigan and New Jersey, have not been models for success.
• Bill regarding medical gas installation regulations. O'Brien said she introduced a bill, set for discussion on the house floor this week, concerning certification of medical gas installers in certain counties and cities.
The bill would require that when a person does any work regarding a medical gas piping system it be licensed under the Plumbing Contractors statute and meet additional certification and permit requirements. O'Brien introduced the bill because of Tonganoxie resident Austin Stone, who roughly a year ago was hospitalized after complications arose from medical gas he received while having wisdom teeth removed. His rehabilitation process continues.
• Community Defense Act. O'Brien discussed the act, which would regulate sexually oriented businesses. O'Brien referred to it as the "stripper bill" and said lawmakers heard from both proponents and opponents, including exotic dancers. She said the bill would regulate how far from patrons the dancers could be among other regulations.
"I'll leave it at that," she said.
• Grant money. Tonganoxie City Councilmember Tom Putthoff spoke about the 237 acres of land the city purchased south of Tonganoxie for an industrial park and asked whether there was grant money available for infrastructure.
Former representative Kenny Wilk was at the meeting and said the city should pursue grants through the Community Block Grant Program.