Sweet gig
Longtime manager now part of
KSU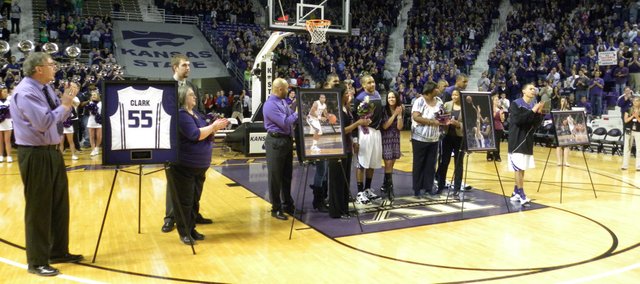 Rhett Clark is the tallest manager in men's college basketball today.
Or at least that's what a Kansas State University assistant coach thinks.
At 6-9, he's one of the taller guys on KSU's team, but the coaching staff hasn't approached him about suiting up for the Wildcats.
"The coaches really don't joke around that much because they see my athletic ability, so they know that's not really an option," Clark said with a slight chuckle.
That might be the case, but Clark has been contributing mightily in Manhattan to the Wildcats during the past four years.
Clark, a Tonganoxie High graduate, has moved his way up in the managing ranks. Starting as a volunteer manager his freshman year, he received a partial scholarship his sophomore year and has been on full scholarship since, which basically covers payment of books and tuition.
Thursday, his final year with the Wildcats continues. K-State travels to Salt Lake City for its Sweet 16 game against Xavier. KSU is making its first Sweet 16 appearance since 1988 after defeating Brigham Young University on Saturday in Oklahoma City.
"It was easily one of the most lighthearted post-games we've had," Clark said. "It was the most lighthearted locker room after a game."
Getting started
Clark became involved with the men's basketball team with guidance from his older sister, now Rachel Ryan. She knew a manager who was on Jim Woolridge's staff and then Bob Huggins' staff. Clark applied for a position with the squad and joined the team his freshman year.
The job was nothing new to Clark, though. He was manager for the Tonganoxie High School boys basketball team for four years and before that was a manager for two years in junior high.
The only road game Clark attended his sophomore year was when the team traveled to Cincinnati to take on its next opponent — Xavier. His junior year he missed just a handful of games and this year he's assisted the team at every game.
Topping his list of best games are K-State's home win in 2008 against Kansas University and the victories this past week in Oklahoma City.
He ranked Mizzou Arena in Columbia, Mo., as the nicest college arena he's attended. And, he said Sprint Center was a "good neutral court" that is made for basketball.
The loudest venues Clark has experienced are home to K-State's biggest rivals, KU and Missouri.
"Allen Fieldhouse is not necessarily smaller but more crowded," Clark said. "It gets loud."
Missouri fans were "pretty crazy" for this year's game in Columbia, Clark noted. And the most hostile?
The Bob Devaney Center in Lincoln, Neb., during the 2008-09 season.
"It was pretty rough," Clark said. "They heckled the trainer, me, the grad assistant. No matter who it was."
On the flip side, Clark said staffs of other teams are usually welcoming and helpful.
Typical game day
For games at Bramlage Coliseum, Clark arrived about six hours before tipoff. A team shoot-around normally started five hours before the game.
"I usually try to be at the gym an hour before the team has to do something," Clark said. "That way everything is set up and good to go and I have time if something goes wrong."
During the game, Clark is taking stats and providing assistance during timeouts. After the game, Clark helps distribute meals and takes care of laundry — those home white uniforms, of course, can be a chore to keep clean compared to purple or black road jerseys.
And players normally use the same home and road jerseys throughout the course of a season, barring anything "catastrophic," such as a torn uniform, Clark said.
Clark has assisted KSU basketball during one of its best four-year stretches. At the helm for three of those has been animated head coach Frank Martin.
"When he gets down to business, he's definitely very intense," Clark said. "But when there's down time and he's relaxed he likes to joke around. Not a lot, but he has a sense of humor.
"Once you get to know him, he makes sure you're aware that he has a sense of humor."
In K-State's final home game this season, Wildcat basketball seniors — and Clark — were honored during a ceremony. Rhett's parents, Phil and Betty Clark, joined Rhett on the KSU home court for the recognition. He received a framed K-State home jersey with his last name and the number 55 on the back. Clark picked the number because it was his lone number as an athlete in junior high football.
A political science major, Clark's top option is to attend graduate school after he finishes undergraduate requirements in May.
He admitted that future plans were on the backburner with the current involvement with the NCAA Tournament.
With the combination of the Big 12 Tournament, spring break and the NCAA Tournament, Clark noted he could be in school a total of just six days in March — if the Wildcats were to advance to the national championship.
That would be a schedule most anyone likely would be happy to manage.