Schaffer named
LJW

all-area player of year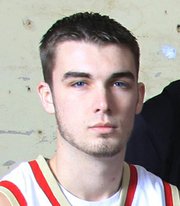 Back when he was a scrawny sophomore trying to find his way on the Tonganoxie High varsity boys basketball team, Keaton Schaffer didn't exactly appear destined for basketball greatness.
As a younger player, he says, he rarely looked for opportunities to score. He would sometimes ask to be taken out of games if he wasn't performing well and was generally prone to typical underclassman mistakes.
"I was scared to take shots, I was scared to handle the ball," said Schaffer. "It was all the way through, all the way to the end, especially sub-state."
Two years later, however, things have changed a bit.
Following a junior season in which he led Tonganoxie to the finals of the sub-state championship and was an all-state honorable-mention selection, Schaffer turned in an even better senior season. He averaged 19.4 points per game this winter — the second straight season he has led the Kaw Valley League in scoring — as well as 5.2 rebounds and 3.3 assists for the 13-9 Chieftains, who advanced to the semifinals of the sub-state tournament for the second straight season.
For his efforts, Schaffer has been named the Journal-World's all-area boys basketball player of the year.
"This year, there was no question, he knew what his job was, and he was going to score points for us," said Tonganoxie coach Shawn Phillips. "He never lacked in confidence. He knew that we believe in him, and so he believed in himself."
But before he developed into the area's top performer, Schaffer had to gain the confidence necessary to be the team's go-to guy — something that didn't always come naturally during his first season in the program.
As he attempted to acclimate himself to the varsity level, he mostly attempted to remain discreet, though, as evidenced by an unfortunate in-bounding incident in a game against Piper during his sophomore season, that sometimes proved difficult.
As a JV player the year before, Schaffer had successfully thrown an in-bounds pass off the back of a defender and then grabbed it for a quick lay-up. So when he was presented with a similar opportunity against the Pirates, he took it.
The problem was, the ball bounced between the opposing player's legs and resulted in a fast-break dunk for Piper.
"I sat the bench for a long time after that," Schaffer said, chuckling. "I don't remember how long, but it was definitely long."
Following a nerve-riddled sophomore season, however, Phillips took over as the team's coach and promptly informed Schaffer that he'd be looked upon to shoulder the Chieftains' load offensively over the course of the next two seasons.
"He came up to me and said that I had to be one of the main scorers, because we lost our main scorer after my sophomore year," Schaffer said. "When someone tells you you have to do it, I think that helps out a lot."
Immediately, the move began to pay dividends, as Tonganoxie — a team that had struggled in previous seasons — began to improve. Schaffer, for his part, flourished, enjoying a two-year stretch of basketball that helped make Tonganoxie a factor again in the KVL.
"I'm going to remember how well our team jelled," Schaffer said. "And how I couldn't be the player of the year without my team. Without them feeding me the ball, I couldn't have been it."