Tonganoxie golf wins 1st team title
Chieftains make history in season opener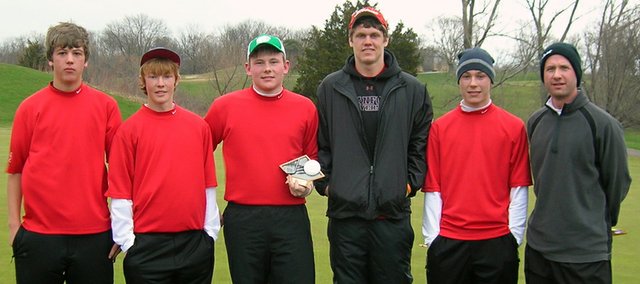 The Tonganoxie High golf season couldn't have got off to a much better start.
The Chieftains won the Sunflower Classic — earning their first team title in program history — on Saturday at Bonner Springs and sophomore Colby Yates finished first with a round of 74.
THS was first in the eight-team field and won the title easily, compiling a score of 332 — 29 strokes better than runner-up St. James Academy — thanks to top-10 finishes from four of its golfers. Mitch DeHoff was third with an 82, Tanner Hale finished seventh with an 87 and senior Justin Jacobs was 10th after posting an 89.
Tonganoxie coach Jared Jackson said a couple of things contributed to the team's huge success, noting that one factor was the time the golfers spent practicing in the previous four weeks.
"The players all put in work necessary to succeed," Jackson said. "Another factor was that we (practice) at Sunflower (Hills Golf Course) twice a week, so we are pretty familiar with the course."
Apparently the golfers are really in tune with the course — even when it is cold and wet, which was the case Saturday. Before the tournament began, Jackson asked the Chieftains what their team goal should be for the season opener. DeHoff said they should try to shoot for a total of 330.
"I told him that was too ambitious for the first tournament with the weather and told him I would be happy at 350," Jackson related. "I guess Mitch knows better than I do."
Entering the 2010 season, THS had never won a team title in golf. Ending that drought was a goal for the Chieftains and they accomplished it in their first outing. But Jackson said they didn't specifically target the Sunflower Classic.
The coach, of course, was happy with Saturday's performance and attaining that goal early.
"It sure sets the bar high for the rest of the season," Jackson said.
Sunflower Classic
Saturday at Bonner Springs
Team scores: 1. Tonganoxie, 332; 2. St. James Academy, 361; 3. Piper, 368.
THS individual scores: 1. Colby Yates, 74; 3. Mitch DeHoff, 82; 7. Tanner Hale, 87; 10. Justin Jacobs, 89; Kody Campbell, 99.