Chieftains softball fit to hit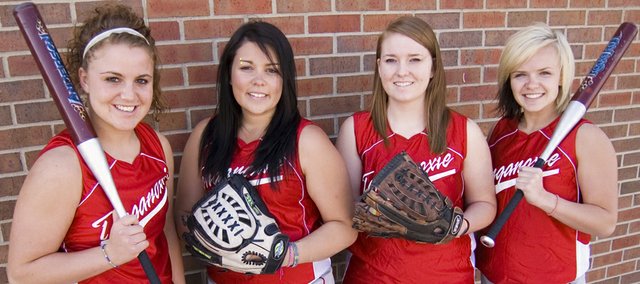 With all the running they've been doing at practices, Tonganoxie High softball players might be getting confused about what sport they're playing.
"This is the first year softball's been more like track practice," joked senior Lindsey Fatherley.
Conditioning has been the focus of first-year THS head coach Lee Matzeder as the Chieftains prepare for the fast-approaching season. He wants the team winning more often than it's losing (which wasn't the case last season, when THS was 7-12) and the new coach thinks a more fit squad will be a more successful squad.
"I want to be in great shape," said Matzeder, who spent the previous two seasons as a THS assistant. "When we get to the fifth inning of the second game, I don't want fatigue to be an issue. If we're going to get beat, OK. Let's just get beat by a team that's better than us, not because we're out of gas and out of shape."
That rationale has meant a whole lot of running (and sprinting) at practices for the players, but they have bought in to its importance.
"We're getting tired," said senior outfielder McKenzie Knight, "but at the same time, we're going to do good out there on the field and show what we've got."
Senior pitcher Nikki Pennington likes the changes Matzeder already has brought to the program.
"He's just really made practices more intense," she said.
The team's new coach also has brought higher expectations to the team's workouts, an approach the players, including third baseman Fatherley, appreciate.
"He expects us to do something," she said. "We know that he's making us better by setting high standards."
The seniors, in turn, have high-reaching hopes for the 2010 campaign. They are gunning for a very successful postseason.
"We really want to make it to state this year — that's our main goal," said senior pitcher Angela Jacobs.
Considering Tonganoxie has been under .500 each of the past two seasons and last advanced to state in 2006, Matzeder knows it will take a significant turn-around to meet that goal. But he is excited about the amount of work the players have already put in and the versatility of the THS roster.
"We have several girls that can play several different positions and we won't skip a beat," the coach said.
The lineup will usually feature Angela Jacobs in the circle, Makayla Leslie behind the plate, Tiffany Jacobs at first, Brooklyn Kerbaugh at second, Kaitlyn Wolken as shortstop, Fatherley at third and some combination of Knight, Hannah Kemp, Kailan Kuzmic, Haley Smith and Emily Stafford in the outfield.
But Matzeder can tinker a lot with those pieces. For example, he said, Tiffany Jacobs could move from first base, to pitcher, to catcher if it were necessary. It all depends on the situation of a particular game.
Matzeder also feels confident about his stable of pitchers. While Angela and Tiffany Jacobs enter the season as the primary starters, Pennington will provide relief, Kemp has looked good at practice and Kerbaugh can come in and throw an opponent off with her off-speed approach. In a real pinch, THS could even turn to Wolken, but she is so valuable in the field with her defense and range, the Chieftains are better off with her at shortstop — or third, if Fatherley is out of the lineup.
That flexibility, coupled with an earnestness to improve — even if it means a ton of running — has Tonganoxie feeling good about its chances this season.
"We all just know that we want to work hard and go to state," Pennington said.
The Chieftains begin their season at 4:30 p.m. Thursday at the Leavenworth County Fairgrounds with a doubleheader against Jeff West.