County would benefit from bill correcting gas tax error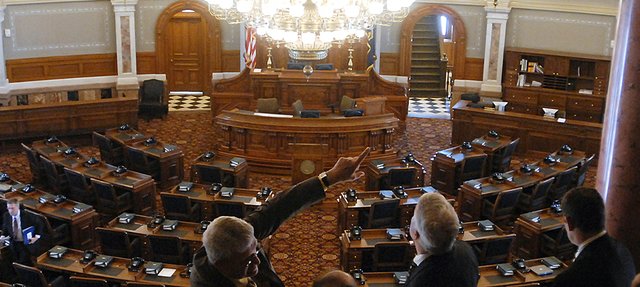 Area counties that were shorted significant gasoline tax revenue will receive repayment during a five-year period if the measure continues to progress.
The Kansas Senate unanimously approved a bill this past week, 40-0, that would repay more than $11 million to five Kansas counties — including Leavenworth ($1.1 million), Douglas ($2.5 million) and Shawnee ($5.5 million) counties. Butler ($1.9 million) and Barton ($159,000) also were affected by the error.
The bill would reduce quarterly special city and county highway fund payments over five years from 100 counties that had been overpaid and redistribute $11 million to the five underpaid counties.
The measure now goes to the House.
Sen. Tom Holland, D-Baldwin City, said the bill was a good plan.
"I think it finds a way to rectify the problem for counties that got shorted without putting counties that were overpaid in too much of a strain," he said.
"Sen. Masterson has put together a plan to make that happen, and so I support the redistribution of monies."
Holland was referring to Sen. Ty Masterson, a Republican from Andover, which is in Butler County.
Holland went on to say that the repayment through five years seemed reasonable to him.
"County folks might have differing opinions," Holland said. "County's that are in a crunch have to be considered as well."
Leavenworth County Commissioner Clyde Graeber said the county "certainly is due the money."
Any repayment is up in the air with the current budget situation as it is, Graeber said.
The bill, which is Senate Bill 575, was introduced Wednesday, March 24 to the House and was referred to its transportation committee Monday.
Sen. Kelly Kultala, D-Kansas City, concurred with Holland on the Senate bill.
"It's a matter of fairness," she said. "Last year, the error had come to the attention of the Legislature. But we weren't able to get complete information for 10 years the error had occurred. Last year, we authorized repayment back to six counties. And then since then, those numbers changed again."
The fuel tax funding issue became the focus of controversy during the 2nd District congressional race in 2008.
The errors were caused by several factors. A software programming error at the Kansas State Treasurer's office went undetected for years and the Kansas Department of Revenue provided incorrect data about vehicle registrations to the treasurer's office.
State audits from 2000 through 2007 hadn't uncovered the problem, but in 2008 then-Treasurer Lynn Jenkins notified Republican legislative leaders, as well as then-Gov. Kathleen Sebelius, a Democrat, of problems that existed in allocation of tax revenue on fuel.
The issue wasn't made public until Jenkins was campaigning for the 2nd District seat against Democratic Rep. Nancy Boyda. Jenkins ended up defeating Boyda.
— Shawn Linenberger contributed to this story.