THS

soccer has talent, experience to set new 'W' mark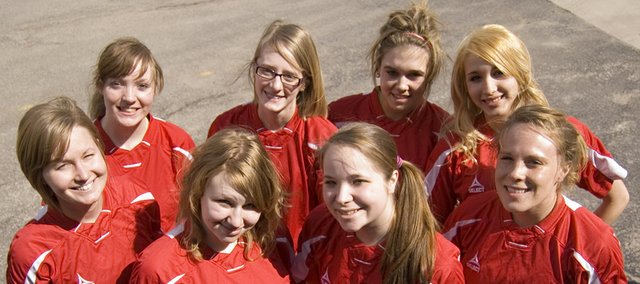 In its brief history, the Tonganoxie High girls soccer program never has won more than six matches in a season.
For that matter, the Chieftains have never won fewer than six either. They were 6-9 in 2007, 6-11 in 2008 and 6-10 in 2009.
But with plenty of experience and skill returning in 2010, THS wants to break through that apparent six-win barrier.
Senior co-captain Sydney Bennett said the Chieftains aren't focusing on the negatives, such as past losing campaigns.
"We're all working together and being positive," Bennett said. "I think to win more games, we've just got to not get frustrated on the field and play like it's 0-0 the whole time."
Tonganoxie coach Ken Lott said this year's roster, which features nine seniors, including the athletic and skilled group of Bennett, Taylor Colgrove, Kendra Walters, Lauren Williams, Hilary Saathoff and Haley Wheeler, looks good.
"I think this team has probably a little bit more potential than the last couple seasons," Lott said.
The coach thinks the squad's comfort level comes from having so many players with varsity experience. Outside of the seniors, seasoned players include Shyanne Gergick, Carlea Richert, Ashley Kotowske, starting goalkeeper Alex Bartels and co-captain Carson Simmons. Sarah Williams and Danielle Lott also will see playing time.
With so many returning players, Lott said if THS plays to its potential it could win eight or more times in the 16-match regular season.
"We want to do better than we have in the past — not just a little bit better, but a lot better," the coach said.
Lauren Williams, who scored six goals for Tonganoxie last season, said this year the Chieftains want to maximize their potential.
"We've sort of sold ourselves short, I think," the senior forward said of past performances. "We have a lot of talent this year."
She would like to see THS set a new mark for victories in her final season.
"We feel like this is our best chance," Williams said.
Fellow senior Bennett said she not only wants to see her team achieve a better record but reach other goals as well.
"We're also looking to have more motivation on the field and be a first-half team, because last year we'd always pick it up in the second half because we'd get more aggressive and kind of get mad a little," Bennett said.
Although Tonganoxie appears to be a very fast team, Lott doesn't want his players taking out their aggression with quick-strike attacks. He said the Chieftains will be most effective by being systematic in their approach.
"We would like to play a little bit more of a possession game instead of just a run-and-gun style of offense," Lott said.
The coach said last season players spent time "trying to assess the game and not trying to control the game" but that shouldn't be the case this year because they are more experienced and won't be thinking too much.
"I think the biggest thing will be finishing the ball and possessing the ball," Lott said.
The Chieftains' season was scheduled to start this past Thursday but a match at Lansing was postponed due to wet field conditions. That match was rescheduled for 4 p.m. today.
Tonganoxie's home opener will be 6 p.m. Monday at Chieftain Park against Mill Valley.
Tough loss
Tonganoxie High's girls soccer team began its season Monday at Bonner Springs with a 2-1 overtime loss. THS senior Lauren Williams scored to tie the match, 1-1, late in the second half. Fellow Chieftains senior Sydney Bennett assisted on the score.