Quite the story for Aunt Norie
Family of sewing columnist pulls off surprise party that celebrates 90th birthday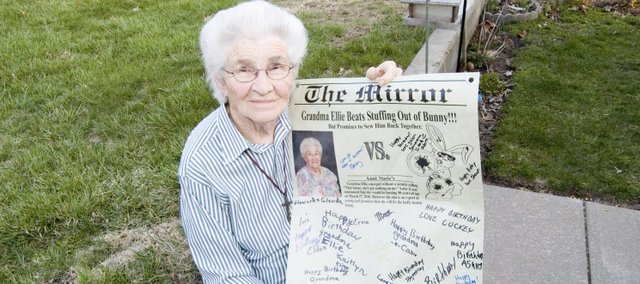 Energizer Bunny versus Aunt Norie?
Aunt Norie's family seems to think she would win that bout.
The fictitious showdown was displayed on a banner family members recently made for Aunt Norie, also known as Tonganoxie's own Eleanor McKee.
The Energizer Bunny is meant to reflect the power of Energizer batteries as it "keeps going and going and going…"
McKee, though, has been doing that and then some. She recently turned 90 and many family members, some traveling several hours, met March 20 at Bob Evans restaurant at The Legends in Kansas City, Kan., to surprise her. Her birthday actually was March 27, so it definitely was a surprise to McKee. About 30 family members attended the party.
On the banner
The "story" below the headline on the banner Eleanor McKee's family made for her 90th birthday read:
Grandma Ellie emerged without a scratch yelling "That bunny aint got nothing on me." Later it was announced that she would be turning 90 years of age on March 27, 2010. However she also is an expert at sewing and promises that she will fix the badly beaten bunny.
"I was overwhelmed," McKee said. "I was just totally stunned. I just couldn't believe it."
She said a surprise party was thrown for her a few years ago and it "was a wing ding that surprised me, but nothing like this."
McKee's daughter, Cathy Plaster, said she initiated talks with her five siblings in early February about planning a surprise bash.
"I started it," Plaster said. "It's her 90th birthday, so I just emailed everybody in the family except her."
As family members discussed the gathering, more and more decided they could make trips to the Tonganoxie area for a celebration.
Another of McKee's daughters, Glenda Lietz, made an 18-hour trip with her husband for the gathering. Lietz lives in Zapata, Texas. Another of McKee's daughters, Lois King of Olathe, was in on the plans, while Lucky Miller, McKee's son from Berryville, Ark., traveled eight hours for planned to attend, but had been traveling on the interstate and was stranded between Topeka and Emporia because of inclement weather.
And though Eldon wasn't in person at the party, he was able to make it via computer.
McKee communicated with her son by using a web cam and Skype, an online application that allows for phone calls, chats and web cam communication through the Internet.
McKee's niece, Beth Irvin, from Peculiar, Mo., surprised McKee with a performance. Irvin, who performs locally at Annie's Country Jubilee, sings and does an act under the guise of Lizzie Lou, a woman with a unique fashion sense, complete with a hairnet and a pair of rag tag men's boots.
When McKee headed to Bob Evans with family, she thought she was going to have a meal with daughters Plaster and King, as well as her grandson, Jason Plaster and his family, who was in the area after recently returning from a third tour of duty in the military. He had been serving in Afghanistan.
Little did Jason know, the gathering also was a welcome home celebration for him before he headed to Fort Carson, Colo.
Little did McKee know, the celebration was going to last longer than one night.
She went with family to visit her one son who couldn't attend the party in person or via Skype. They met in Holton and she was treated to a cinnamon roll with a candle in it during a meal.
Ernie then suggested heading to the nearby Prairie Band Casino. Being a first-time visitor, McKee was given $25 in credits to play at the casino. She played the penny slot machines and left with $34 in winnings.
McKee was thrilled with her lucky streak, but isn't going to make casino trips a routine occurrence.
"I had a lot of fun when we went to see Ernie," she said. "We may run out (to the casino) and do it (again), but it not's going to be a regular thing."
Quite the traveler
Born March 27, 1920, in Fairview, which is north of Holton at U.S. Highways 36 and 75, McKee has lived in various towns in northeast Kansas, including some time in Manhattan. Her first husband was Frank Miller, which had friends joking at the time that they had the same names as the president and first lady, Franklin and Eleanor Roosevelt. McKee joked that she and her family also lived in a white house at the time.
Her family had lived in California, but moved back to the Midwest. She recalled it was shortly after Pearl Harbor was attacked in Hawaii. McKee has lived in Colorado and Missouri and had plans to join the Peace Corps at one time. However, a previous neck injury disqualified her from participating, she said.
She later married Eldon McKee, who died in 1975.
She's held various jobs, including work in nursing homes. During her time at nursing homes, she found some folks were lonely. She said she always found that hugs were a great way to make people feel better.
"I was up at B&J Country Mart one time and this woman from the other side of the store coming right at me; 'I know you like hugs and I've got a big one,'" McKee said. "That happens everywhere I go."
Aunt Norie's Sewing Room
While in Osceola, Mo., Mckee started her Aunt Norie's Sewing Room column after being approached by the local newspaper about writing one. She has been a sewer much of her life and was pictured in her first column wearing a vest she made out of former men's jeans.
In 1994, McKee moved to Tonganoxie a few months after Plaster and her family moved here. Plaster has worked for several years at Kansas City Kansas Community College.
McKee started her column in The Mirror in 1994 and has been writing in Tonganoxie for the newspaper ever since. The nickname came about because a younger sibling had difficulty pronouncing "Eleanor" and instead called her Norie.
As for any grand surprise birthdays, Plaster said there probably wouldn't be any surprise parties for awhile.
"Well, we might do it for 100," Plaster said.
McKee said her heart doctor said she's "well on her way" to 100 as she noted she only takes three little pills, one for heart rhythm and two for high blood pressure.
"And I don't see why not," McKee said.