Tonganoxie takes 5th with 8-3 victory
Chieftains go 2-1 at
BFMBC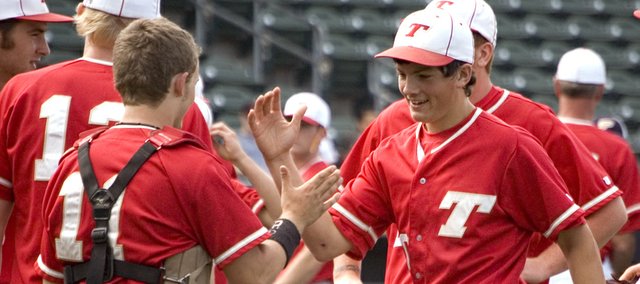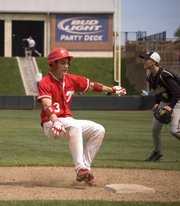 Kansas City, Kan. — Tonganoxie High took fifth place at the Butch Foster Memorial Baseball Classic Saturday by defeating Paola, 8-3.
Junior starting pitcher Dylan Puhr threw a complete game and junior catcher Jeremy Wagner doubled three times to lead the Chieftains to their third win of the season.
Up two runs with the bases loaded in the bottom of the sixth, Wagner jumped on a pitch and sent it to the deepest part of center field at CommunityAmerica Ballpark, scoring Tyler Freeman, Corey Klinkenberg and Dylan Caywood.
Puhr was steady on the mound throughout the win, allowing just three hits, three walks and two earned runs. The junior right-hander only ran into a little trouble in the top of the sixth, when the Panthers scored all three of their runs to cut a four-run Tonganoxie advantage to one.
But the Chieftains (3-10) responded to Paola's push with four runs in the bottom of the sixth.
With one out, Dalton Harrington singled to center field, Freeman was hit by a pitch and Klinkenberg walked to load the bases.
Caywood reached on an error, scoring Harrington, before Wagner's three-run double put the game away.
The consolation final at the BFMBC was scoreless through three and a half innings. THS got on the board in the fourth, when Wagner led off with a double and scored when Ben Williams reached on an error.
Tonganoxie scored three more runs in the fifth, which began with Freeman reaching on an error. Caywood did the same and then Wagner hit an RBI-double down the left-field line.
With two runners in scoring position, Williams drove them both home with a single to left.
The Chieftains nearly found themselves in trouble in the top of the fourth. After retiring the first Paola batter, Puhr committed an error and gave up a single to the next hitter.
With two runners on, THS left fielder Brandon Yoder got his team out of a jam by making a sliding snag on a line drive, then turning it into a double play by throwing to second after a Panthers runner left early.
After going 2-1 at the three-day tournament, Tonganoxie is right back in action Monday, when it travels to Lansing for a 4 p.m. doubleheader.