THS

girls soccer handles

KC

-Washington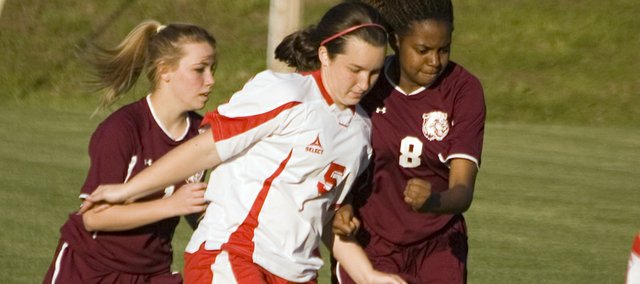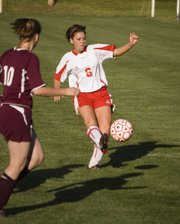 Without six of its regular players, the Tonganoxie High girls soccer team still disposed of Kansas City-Washington, 5-0, on Monday at Chieftain Park.
Five different Chieftains stepped up and scored goals to make sure no one was missed.
Junior Ashley Kotowske started the scoring spree in the sixth minute and THS took a 2-0 lead into the half after sophomore Sarah Williams scored on a penalty kick in the 15th minute.
Less than three minutes after the break, Rebekah Adcox added to the lead with a goal and Savanah Bailey and Shyanne Gergick each scored in the second half to keep the match one-sided.
Playing against a struggling Washington team, there wasn't much for coach Ken Lott to worry about. Given that Tonganoxie was without injured Kendra Walters, Taylor Colgrove and Ashley Forbis, as well as three others who generally contribute, the coach gladly played everybody who suited up, including junior varsity players. Lott said he was trying to get as many Chieftains as possible into the match so they could get some playing experience and feel comfortable with the game at the varsity level.
"With the people that we have hurt, we're gonna need some people to fill in and we're still looking," Lott said. "Right now we're just looking for those extra players to go into regionals with."
Even with a makeshift lineup at times, THS took control of the match and dominated possession. Kotowske said it was nice to have a worry-free match.
"It was great because I felt like we knew where we were passing, we knew what to do with the ball," she said.
Lott said he saw more of that in the second half but he was unhappy with the style of play in the first 40 minutes because players were making too many passes instead of putting a shot on goal.
"We talked a little bit about movement and you could tell in the second half that it flowed a little easier," Lott said, noting players started looking to get into the box on crosses.
After Kotowske scored on a chip shot from the right side and Williams' goal came on a penalty kick in the first half, the Chieftains were more aggressive in the final 40 minutes.
Adcox sent her goal bounding across the grass from the right side, Bailey scored from about 18 yards out by putting the ball in the top left corner and Gergick lofted a shot from the left side of the box and put it in on the high right portion of the net.
Tonganoxie (4-7-1) struggled to start the season, winning just one of its first six matches, but since then the team is 3-2-1. Kotowske said Monday's 5-0 win was another pick-me-up, good for morale and confidence.
"It's an awesome atmosphere for our whole team because you can tell everyone's spirits are just up," she said, adding she would like to see them match that attitude the next time they have a tough opponent on the schedule.
According to Lott, that opportunity will come soon with a Wednesday home date against Kansas City Christian followed by a Thursday trip to Ottawa.
"We're probably gonna have two tough games in front of us but my main concern today was to try to get them to move the ball around because we had been going longitudinal all the time, not laterally," Lott said.