Tonganoxie softball sneaks past
BSHS

twice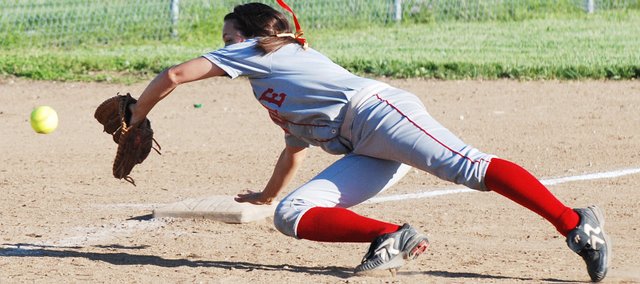 Photo Gallery
Tonganoxie softball sweeps Bonner Springs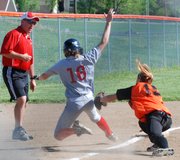 Bonner Springs — The Tonganoxie High softball team started fast while Bonner Springs finished strong during both games of a doubleheader Monday at BSHS, but each game was claimed by the Chieftains.
THS nabbed a 7-6 victory in 10 innings in game one and then held on to take the nightcap, 4-3.
Tonganoxie was clicking on all cylinders early in game one. Brooklyn Kerbaugh smacked a leadoff single and Haley Smith followed by getting hit by a pitch. McKenzie Knight then drove in both runners with a two-run single.
The Chieftains added to the lead in the top of the second. Makayla Leslie hit a leadoff single. Hannah Kemp entered as a courtesy runner and advanced to third on a double by Tiffany Jacobs. Kemp then scored on a base hit by Amanda Holroyd for a 3-0 lead.
Bonner Springs battled back in the bottom of the second. Kylee Timberlake hit a leadoff single and Carli Turner bunted her way on base. Timberlake scored on an error, and Turner came home on a sacrifice by Sammy Ricci-Weller.
THS stretched its lead to 4-2 in the fifth inning, when Kerbaugh reached on an error, advanced to second on a sacrifice bunt by Smith and scored on Kaitlyn Wolken's double to left field.
BSHS promptly answered in the bottom of the inning. Shelbie Thornton singled and Cassady Holloway reached base when the Chieftains misplayed her bunt. Thornton scored on a passed ball, and Holloway came in when Chelsea Parr walked with the bases loaded.
With the game tied at 4-4, neither team scored again for the next four innings. Tonganoxie failed to capitalize on leadoff hit batters in the sixth and seventh innings or a two-out double by Lindsey Fatherley in the eighth. Meanwhile, Bonner Springs left one runner on base in the sixth, two in the seventh, two in the eighth and one in the ninth.
Tonganoxie broke through in the top of the 10th. Holroyd and Kerbaugh hit back-to-back singles and advanced on a sacrifice bunt by Smith. Wolken drove them both in with a double to deep left field. Wolken then scored on a two-bagger by Fatherley and gave the Chieftains a 7-4 lead.
The advantage wasn't safe. Bonner Springs mustered a final rally when Thornton slapped a one-out double to center. Breanna Tendick drove her in with a two-out two-bagger. Tendick scored on a double by Timberlake that brought the Braves within 7-6. Turner tried to drive home Timberlake, but her deep fly ball to center field was tracked down by Knight to end the game.
THS carried the momentum into the first two innings of game two. They jumped on the Braves for three runs in the first inning as Smith and Fatherley both singled and Wolken was hit by a pitch. All three eventually scored. Smith also singled and scored in the second inning and stretched the lead to 4-0.
Tonganoxie mustered just one hit during the final five innings as it clung to the lead.
Bonner Springs scored once in the third inning as Thornton singled and later scored on a base hit by Timberlake. Thornton and Holloway both singled and scored on a double by Tendick in the third inning to pull within 4-3.
The Bravettes stranded two runners on base in the bottom of the sixth and then had Timberlake on second in the bottom of the seventh before THS pitcher Angela Jacobs threw back-to-back strikeouts to end the game.
Tonganoxie improved to 7-7 with the victory. Bonner Springs dropped to 7-8.