Former glazier returns to restaurant business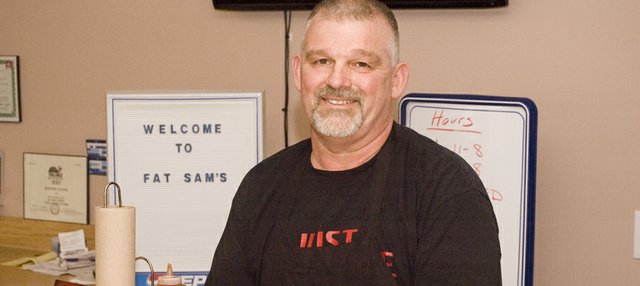 It's been a few years since Gene Samuels was working in a restaurant kitchen.
When he was 16, he was a dishwasher and short-order cook.
Now, at 51, he's back at it. This time, though it's as owner of the restaurant.
Samuels opened Fat Sam's barbecue restaurant late last month in the former Daniel's BBQ restaurant at 215 West St. (U.S. Highway 24-40).
"I was getting too old to set glass anymore," Samuels said with a chuckle, explaining why he opted for the restaurant business.
Samuels had worked as a commercial glazier, but now is serving up ribs, chicken, brisket, pulled pork, sausage, burnt ends and sides. "Sam"wiches are available with the meats as well.
So far, business has been solid, Samuels said.
"Superb," he said, describing how business was going in the first few weeks. "We've been blessed."
Though he hadn't been in the restaurant business since high school, Samuels is no stranger to cooking up dishes for others.
He's served food at various Tonganoxie High School team banquets. There also was a time when he routinely brought his smoker to THS baseball games and served food to the Chieftain baseball team. He and his wife, Merri, also have played host to many friends for a meal during the Leavenworth County Fair Parade, as the route goes past their home.
Asked what his most popular item has been so far, Samuels couldn't pinpoint one item.
"One day it will be the ribs; the next day it will be the brisket," Samuels said, noting other menu items have been popular also, including French fries and cole slaw.
Merri makes cole slaw each morning, while Gene's specialty is the baked beans.
Down the road, Samuels said he would like to offer specials such as quesadillas or even chili in the winter.
Though Samuels said Fat Sam's has been popular for dine-in and carry-out, meat purchased by the pound has been a good seller, especially with graduation receptions approaching. In fact, he'll be providing food for the THS Project Grad festivities that will follow graduation May 15.
The restaurant is open 11 a.m.- 8 p.m. every day except Sundays and Wednesdays. It's open 11 a.m.-6 p.m. on Sundays and closed Wednesdays. It's phone number is (913) 417-SAMS (7267).