Who are these guys?
Chieftains look like different team at
BFMBC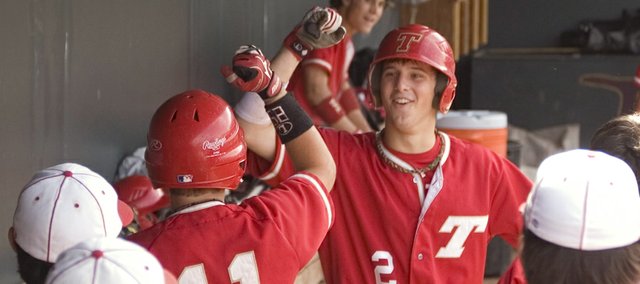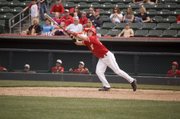 Kansas City, Kan. — It might be time to charge the Tonganoxie High baseball team with identity theft.
When the Butch Foster Memorial Baseball Classic opened Thursday at CommunityAmerica Ballpark, the Chieftains looked like their same old, struggling selves — winners of just one game all season.
Surprisingly, THS recovered from a 10-run first-round loss and played like a completely different squad while winning its next two games at the tournament to take fifth place.
Outwardly, the players looked the same. Same red jerseys. Same white ball caps. No new ringers added to the roster.
But after losing 15-5 to Spring Hill on Thursday, their on-field performances in a 7-4 defeat of Bonner Springs Friday and an 8-3 victory against Paola on Saturday nearly made them unrecognizable.
Junior Dylan Puhr, who threw a complete game on the mound Saturday, said something changed for Tonganoxie after being run-spread in five innings against SHHS. After that potentially crushing loss, which featured a nine-run inning for the Broncos, Puhr said coach Phil Loomis had an important message for his downtrodden team.
"Take that game, put it behind you," Puhr said of Loomis' advice. "You've got another game to play. Wipe the slate clean and get going again."
The Chieftains talked about that on the bus ride back to Tonganoxie and when they returned to Kansas City, Kan., on Friday, they were a changed group.
"We all decided it's a new game, it's a new team, so we're gonna get it going and see how far we can go," Puhr said Saturday after allowing just three hits, three walks and striking out three Paola hitters in seven innings.
One of the things that plagued THS through its rough start to the season was letting its opponent capitalize on mistakes, which usually led to momentum-crushing innings. Junior catcher Jeremy Wagner said the players knew that was one ugly habit they had to break.
"We have that one bad inning all the time," Wagner said.
That could have happened against Paola on Saturday in the top of the sixth, with Tonganoxie up, 4-0. But after a walk, a couple of errors and two PHS hits, Puhr stopped the bleeding at three runs and got his team back in the dugout with a one-run lead.
His teammates then picked him up with a four-run bottom of the sixth that helped seal the win.
With one out, Dalton Harrington singled to center field, Tyler Freeman was hit by a pitch and Corey Klinkenberg, whose two-run, pinch-hit double was instrumental in the team's win over BSHS, walked to load the bases.
Chieftains leadoff hitter Dylan Caywood, who was named to the all-tournament team, reached on an error and Harrington scored to give them a two-run lead.
Then came some fireworks. Wagner stepped into the batter's box with three runners on. After seeing a couple outside fastballs, he pounced on a curve over the plate and sent it soaring deep into center field at the pro ball park. He said he couldn't have hit the ball any harder.
"I don't have enough power to get it over," Wagner said with a chuckle. "I guess that's what they call warning-track power."
He thought the shot would plate two runs, but all three runners scored on the double thanks to Caywood hustling from first base and diving head-first into home.
The three-run double gave THS separation in the game and confidence as it left CommunityAmerica Ballpark.
Turning the switch
Loomis said the coaching staff knew all along the team had enough talent to compete, but couldn't put a finger on what would turn the switch. Loomis even threatened to be the bad guy, but he said they found a way to turn things around themselves.
"They seemed to have adjusted their mindset to get over the hump," the coach said.
After losing to Spring Hill in the BFMBC opener, Loomis challenged his pitchers and catchers to cut out the extra bases opponents were getting on passed balls.
He said Puhr and Friday starter Brandon Yoder, who allowed only four hits and struck out five batters in six innings of work, answered the call.
"The last two games our pitchers threw the ball in the zone. Wagner did a great job of catching the ball and keeping it in front of him," Loomis said, noting cutting out "free bases" was a big difference.
Puhr said the team always felt it could play at the level it showed in its two wins at the tournament. Now Tonganoxie has a different attitude.
"We always got down on ourselves at the beginning of the year and now we're starting to think positive and good things come out of that," Puhr said.
Wagner, who had a monster tournament, finishing 5-for-8 with six RBIs, said playing for a program that played in a regional final each of the past two seasons made the losses even more maddening.
"We're just sick of losing. Everybody is. We're not used to that," he said.
Loomis said his team's success this past weekend could be a turning point for 2010. The coach said the Chieftains had no vision entering the season except for playing in another regional final. With the challenges they have faced this year, Loomis said they figured out something important on Saturday: "That vision is still in the works."
The coach said that if THS plays to its potential in the first two games of regionals, which begin Monday, May 17, it can play in its third straight championship game and "see what happens" from there.
Because the Chieftains are playing with a new identity, anything seems possible.
Tonganoxie plays host to Bishop Ward on Thursday following a 4 p.m. junior varsity game at Leavenworth County Fairgrounds.